Paddle for a Cause Saturday at the Ayers Creek Adventures Annual Pink Paddle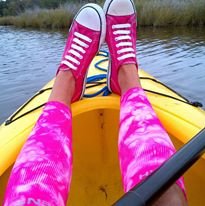 September is winding down, which means October is just around the corner. At ShoreBread, October means a number of things – leaves changing, Halloween, haunted hay rides – but what the month of October also represents is Breast Cancer Awareness Month. Fundraising efforts will take place all over the Eastern Shore over the next few weeks, with the first event happening this Saturday, as the local community comes together for the 4th Annual Ayers Creek Adventures Pink Paddle Benefit.
Paddlers and attendees will gather Saturday, September 28 for a calm water paddle on Ayers Creek, followed by a Post Paddle Party, all in an effort to create a world free of breast cancer and to provide support to those affected by breast cancer. Last year over 50 people came out to support the cause, with about 35 paddlers, and the rest volunteering or simply enjoying the event. Over $4,400 was raised in the Fight Against Breast Cancer last year.
"The event came about due to the combination of our love of paddling and our commitment to the fight against breast cancer," said event organizer and Ayers Creek Adventures owner Suzy Taylor. "The Pink Paddle is a fun and inspirational day that helps raise funds in the fight against breast cancer, promotes breast cancer awareness, and promotes the benefits of a healthy and active lifestyle."
Taylor lost her mother to breast cancer in 1980, and has been taking strides ever since to raise awareness about breast cancer. "Both Komen MD and Women Supporting Women Worcester County provide a great deal of support for those who suffer from Breast Cancer as well as for their families and loved ones," said Taylor. Both organizations provides support services including counseling, mentoring, and transportation to treatments. The Komen Foundation also provides funding for screenings, research and education in the fight against breast cancer. "In many cases these organizations are the only place women have to turn to when battling breast cancer. I feel another very important benefit these organizations provide is to promote awareness about the disease that helps lead to prevention and early detection saving millions of lives," Taylor noted.
The Pink Paddle Event includes a calm water paddle on Ayers Creek that lasts 1.5 to 2 hours. Individuals also have the option to choose to paddle for longer or shorter distances if they prefer. Following the paddle is the Post Paddle Party, which will include pizza from J&J Brick Oven Pizza, desserts from Baked Desserts, and soft drinks. The event will also feature live music by Adam Bilenki, door prizes, a breast cancer trivia contest with prizes donated by local merchants, a Pretty in Pink Parade and Contest, and awards for most funds raised. In addition to prizes, all winners will receive a hand-crafted mini pink paddle made by Steven Taylor.
Taylor encourages all participants to hang out, relax and enjoy the food and music. Participants are also encouraged to paddle at their leisure for the rest of the afternoon. In addition to the prizes, a silent auction will also be included in the event, with a collection of items including a mini Ravens helmet signed by Ray Lewis, a night at the Fager's Hotels in Ocean City, gift cards from The Shark on the Harbor, a wine tasting for 6 from Fenwick Wine Cellars with limo service, a television donated by ShoreCan Construction, a guided kayak eco tour, and gifts from Berlin merchants including The Maryland Wine Bar, Bungalow Love, The Nest, and The Berlin Coffee House.
"The Pink Paddle is another opportunity to remind all women, and men, to practice both preventative measures by leading a healthy lifestyle and to ensure they are regularly screened through both mammograms and self-exams," said Taylor.