Paddle Poker Run on the Wicomico Creek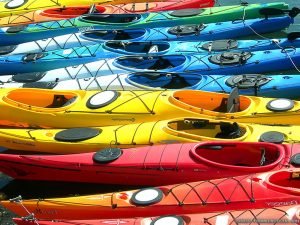 The Allen Lions Club will be hosting their second Annual Paddle Poker Run this coming Saturday on the Wicomico Creek, thanks to their event participants and local sponsors. This event will launch from the Douglas Nicholas Park in Allen, MD at 10:30am and will finish at approximately 12:00pm at the Wicomico Yacht Club.
The name of the event may be a tongue twister, but the concept is really quite simple. Paddlers will travel along the Wicomico Creek on their preferred floating device: canoe, kayak or paddleboard. Along the way, paddlers will make designated stops to pick up a total of 7 playing cards. At the end of their paddle, the top 5 winning hands win the biggest prizes! Paddlers can also increase their odds by purchasing additional hands of cards for only $20.00. All proceeds go to the Allen Lions Charity Fund, which gives donations back to the local community and charities.
Participants must be at least 18 years old to paddle and play, but family and friends of all ages are encouraged to cheer the winning players on at the landing point – the Wicomico Yacht Club. Food and beverage will be available for individual sales. For more information and to learn how you can register for this annual event, please visit the Allen Lions Club Facebook page or call 410-603-1678. May the best poker paddler win!
The post Paddle Poker Run on the Wicomico Creek appeared first on ShoreBread.