Peek into the Past: 36th Annual Nanticoke Indian Powwow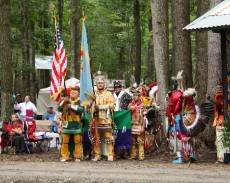 Native Americans hold an integral part of the culture and history here on the Eastern Shore. For a chance to see a unique part of Eastern Shore history come to life, head to Millsboro, Delaware this weekend of the 36th Annual Nanticoke Indian Powwow – a unique opportunity to witness authentic Native American traditions. Featured as one of Delaware Today's "50 Things every Delawarean Must Do," the event will run from Saturday, September 7th through Sunday September 8th at the Nanticoke Indian Museum, providing a rare look into Native American way of life.
Many people have a limited knowledge of Native American culture, particularly of our own Native American culture on the Delmarva Peninsula. This weekend's event offers a hands on opportunity to experience Native American music, art, and ways of life. American Indian drummers and singers will be featured, along with a wide variety of Native American foods and over 40 visiting tribes from across the US. Saturday's festivities will be held from noon to 7pm, with grand entry to the days two dance sessions at noon. Sunday hours are 10am to 5pm, with a Worship Service at 10am, and grand entry to the days' dance session at 1pm. The three powerful dances are rooted deep in patriotism, religion, and respect for the Earth, creating a meaningful atmosphere and kick-off to the days activities. Head dancers this weekend are Keith Andersen and Adrienne Harmon. Tribal ID is required for Dance Circle entry. The weekend also includes Native American art vendors trading or selling jewelry, beadwork, traditional shawls, and paintings. Traditional and non-traditional foods are sold at the venue as well.
Whether you are looking to learn about another culture's customs or celebrate part of your own ancestry, the 36th Annual Nanticoke Indian Powwow holds an exceptional experience for anyone. Limited camping sites for the weekend are available at the museum for $25. Parking is available for $10 per vehicle and $2 per walk-in. For more information, please contact 302-945-7022 or e-mail [email protected].