'Ping Pong Summer' Premiere Set For Ocean City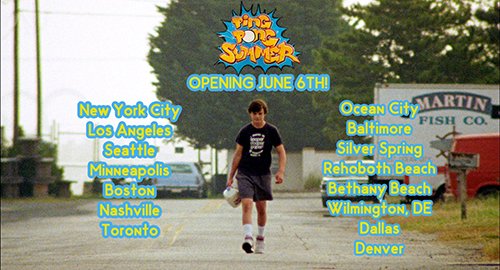 OCEAN CITY — The producers and marketing agency for "Ping Pong Summer," the coming of age independent film shot entirely in Ocean City, are holding a special red carpet premiere at the Sun and Surf Theater next Saturday for invitees and local dignitaries.
Written and directed by noted independent film producer and Maryland native Michael Tully, "Ping Pong Summer" is a coming-of-age story set in the summer of 1985 about a ping-pong and hip-hop obsessed teenage boy on a family vacation to Ocean City. Tully wrote the story and directed the film based on his own experiences on summer family vacations in the resort while growing up in Mount Airy, Md.
The movie was shot entirely in Ocean City in 2013 and wrapped up shooting on the day before Hurricane Sandy arrived in the resort in late October 2012. The film features many prominent and historic locations in Ocean City including, of course, the Boardwalk, Trimper's, Old Pro Golf, Paul Revere's Smorgasbord, Phillips, the King's Arms Motel, the Greene Turtle, Hooper's and many others. Also featured prominently in the film are many locals who served as extras, while Worcester Prep student Emmi Shockley has a prominent role as the main character's love interest.
The film opened to rave reviews at the Sundance Film Festival this year and has been shown on a limited basis and other venues and festivals. It is scheduled to open nationally on June 6 in 15 cities including New York, Los Angeles and Boston, for example. Closer to home, the film will open for the public's viewing in Ocean City, Bethany Beach and Rehoboth. In addition, the film will be released on-demand by cable providers.
Before the June 6 national opening, however, "Ping Pong Summer" will have a special invitation-only, red carpet premiere in Ocean City at the Sun and Surf Theater next Saturday, May 31, hosted by Gravitas Ventures, which is handling the release of the film and its premiere in the resort. Ocean City Tourism Director Donna Abbott said this week Gravitas is handling the details of the special red-carpet premiere at Sun and Surf next weekend.
"Gravitas is sponsoring that," she said. "It's an invitation-only event and the invites have already gone out. They're handling the details. Michael Tully will be here, along with many of the child actors. We've been working with Gravitas and the producers to help in any way we can to move things along. They're experienced in red carpet openings and we're deferring to them on most of the details."
Tully is expected to attend, along with actors Marcello Conte, Myles Massey, Emmi Shockley, Joseph McCaughtery, Andy Riddle, Helena Seabrooke and Maddie Howard. The red carpet arrivals are expected to start at around 6 p.m. with the screening set for 7 p.m.