Rehoboth Beach Restaurant Veterans Take Time to Reflect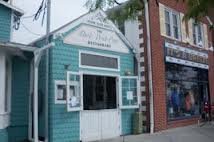 "Why would anyone want to do this to themselves?"
That was the question posed to a group of seasoned Rehoboth Beach restaurateurs this week, and while the responses were varied, the underlying theme remained consistent – it was a different time 20 or 30 years ago, and opening a restaurant was an entirely different beast, comprised of one part luck and two parts sheer determination.
The group of restaurant pioneers spent nearly two hours sharing stories of the restaurant business, taking the audience back to a time when restaurants could be opened on a shoestring budget and when one didn't have to be an award winning chef or restaurant veteran to launch a successful restaurant business. In fact, nearly all of the panelists had zero restaurant experiences before starting their ventures. Were they crazy? You betcha, and they all agreed as much, sharing laughs over their brave, and albeit naïve, forays into the culinary world.
Rehoboth Beach was a different town too, the panelists agreed. It was invariably a different time as well with different crowds, demographics, trends and rules. Stories of borrowing money from their parents to cover the first months' bills, or being daring enough to actually serve sandwiches on pita bread with sprouts in a town full of fried seafood, or having to be inventive with the small selection of ingredients and foods offered in the area shed light on what it was like to be a restaurateur in the 70s and 80s. And while there are too many stories to rehash here, we present you a few of the stand-out quotes from this week's discussion:
Nancy Wolfe, original owner of Chez La Mer:
"People told me 'you're such a good cook, you should open a restaurant'…one day in a crazy moment, I rented the place, and the rest is sort of history,"
"It wasn't an industry people wanted to get into back in the day."
Keith Fitzgerald, Owner of The Back Porch:
"Most of us were in education, teachers, and we were pretty disgruntled teachers."
"I came down here for two weeks to help my friend Victor open The Back Porch and 40 years later, I'm still here."
"I never intended to do this."
Marilyn Spitz, Owner of The Back Porch:
"There was a never a moment in my life, ever, where I said, gee I wish I had a restaurant."
Sue Krick, Former Owner, The Summer House:
"We thought we wanted to get away from people as much as possible."
"That's when opening a bar was simple in Rehoboth Beach. You opened the door and they came."
Sydney Artz, Former Owner, Sydney's:
"We were all entrepreneurial and there were very few of us with any real restaurant experience."
"The biggest thing was, we didn't know what we didn't know."
"There's not one of us who would not step outside of our own box for another."
Terry Plowman, Former Owner, The Front Page:
"I was just thinking I needed something a little more permanent."
"I don't think today you could open a restaurant on the shoestring budget the way we did back then."
The audience consisted of a large assembly of customers and area residents, who seemed to enjoy the walk down memory lane. Nostalgia ran deep as audience members shared in the early days of the Rehoboth Beach culinary scene. The night culminated with the consensus that whether the early pioneers of Rehoboth Beach dining intended to or not, they ultimately created the unique dining destination that area residents and tourist still enjoy today.