Remembering A True Eastern Shore Icon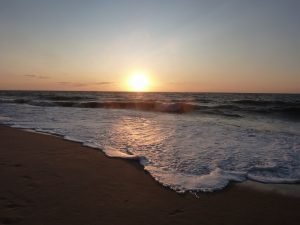 It is with a heavy heart that we share this with you. We lost an Ocean City icon & a dear friend this week. Shirley Phillips passed away early Christmas morning at the age of 95. Our thoughts and prayers are with the Phillips family, her friends and all who have had the great pleasure of knowing her. She will be dearly missed….
  Shirley Elizabeth Flowers Phillips, age 95, passed away on Sunday, December 25, 2017. Born in Fishing Creek, MD, she was the daughter of the late Ivy Burton Flowers and Lillie Melvina Aaron Flowers. She was preceded in death by her beloved husband of 68 years, Brice R. Phillips in 2011. Surviving are her children, Stephen B. Phillips and his wife Maxine of Annapolis, and Jeffrey P. Phillips, Sr. and his wife Janet of Princess Anne. She was an adored grandmother to, Brice S. Phillips (Jen), Joanna Phillips Malby (Mark), Aaron Phillips (Marisol), Jessica Phillips Minah (Greg), Jeffrey Phillips, Jr. (Erika), Hugh Phillips, Carmen Phillips Corradino (Matthew), Joseph Phillips (Brittani), Allison Prevatt, Andrew Prevatt, and ten great-grandchildren. Shirley was a 1939 graduate of Hooper's Island High School. In 1942 she married Brice Phillips, and in 1956, they moved to Ocean City to start their seafood restaurant. Their sons were born and raised in the family business. Even after "retiring", Shirley would come in and hostess where ever she was needed. She loved people and enjoyed being "on the floor". Always active in her community, she gave much of her time to local and state organizations, serving on the Board of Directors for; Atlantic Bank, Blue Cross Blue Shield, Maryland Chamber of Commerce, University of Maryland Medical Systems, and Board of Trustees for the Appellate Judicial Nominating Committee. Shirley received recognition for her work on the OC Drug and Alcohol Abuse Prevention Committee, received a Doctor of Hospitality from University of Maryland Eastern Shore, Doctor of Culinary Arts and Hospitality Management, from Baltimore International College, and was listed as Maryland's top 100 Women in Warfield Business Record. She was a member of Atlantic Methodist Church, and the National Society Daughters of the American Revolution, the Library of Congress Madison Council, Maryland Restaurant Association, Dunes Club, a member and benefactor of the Ocean City Life Saving Museum and the Art League of Ocean City. She and Brice had been active fundraisers for the Atlantic Methodist Church, hosting their Community Dinner every fall for many years. She was also active in the of the establishment of Atlantic General Hospital. Shirley has resided in Florida since 2006, where she has been cared for by her children and grandchildren
A visitation will be held at the family home on 1518 Teal Dr., Ocean City, MD on Saturday, December 30 at 12:00 PM. The service will follow at 1:30. Rev. George Patterson will officiate. Entombment will follow. In lieu of flowers, a donation in her memory may be made to: Atlantic General Hospital, 9733 Healthway Dr., Berlin, MD 21811, or Atlantic United Methodist Church, 105 4th St. Ocean City, MD 21842, or Coastal Hospice, P.O. Box 1733, Salisbury, MD 21804.
Letters of condolence may be sent via: www.burbagefuneralhome.com
Arrangements are in the care of the Burbage Funeral Home in Berlin.
Published in Baltimore Sun on Dec. 27, 2017
The post Remembering A True Eastern Shore Icon appeared first on ShoreBread Eastern Shore Lifestyle Magazine.