Ropewalk Fenwick Oyster House Enjoys Succesful First Summer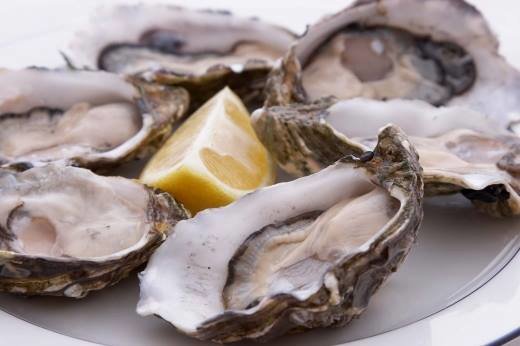 Fenwick Island welcomed a new restaurant and oyster house this summer, as Ropewalk opened its doors, bringing a taste of Baltimore tradition to the area. After a busy first summer on the shore, the Ropewalk staff prepares to wrap up a successful first summer this Labor Day Weekend, transitioning from summer to fall. Open year round, the Ropewalk Fenwick Oyster House offers more than just oysters, with everything from fresh fish to award winning wings. ShoreBread sat down with the Ropewalk's General Manager and Executive Chef this week, gaining an inside look at the Fenwick Island Oyster House.
After working all winter and spring to be ready in time for summer, Ropewalk Fenwick finally opened its doors June 8, hitting the ground running for the busy summer season. "It's actually been very, very good so far. We were lucky to have an awesome staff this year. Every restaurant has its kinks of course, but things have been great this first summer," said General Manager Molly Thomas.
Ropewalk's sister establishment, the Ropewalk Tavern, is located in Federal Hill in Baltimore. The original Baltimore tavern dates back to pre-prohibition and is situated on one of the oldest streets in Federal Hill. During the 18th and 19th centuries, Ropewalk Lane saw many shipbuilders twine and spindle ropes for ships. In 1995, the McFaul brothers decided to renovate the collection of spaces on the street, transforming the space into the Ropewalk Tavern. Chris Reda, a patron of the Ropewalk Tavern, decided to join forces with the McFaul brothers to bring the Ropewalk traditions to their home away from home – the beach.
"They all grew up coming down here. They always loved the area growing up. They had been looking for a place for a while and this spot seemed like a perfect fit," said Thomas. The three owners have spent the past 20 years vacationing in Fenwick Island, and spent many of those years dreaming of one day opening a restaurant in their favorite beach town. When the opportunity arose, they jumped at the chance.
The previous restaurant operated out of the first floor and rented out offices on the second floor. The entire building was gutted and revamped over the winter, transforming the restaurant into a two story establishment. The first floor includes the new kitchen and indoor seating along with a new, 40-foot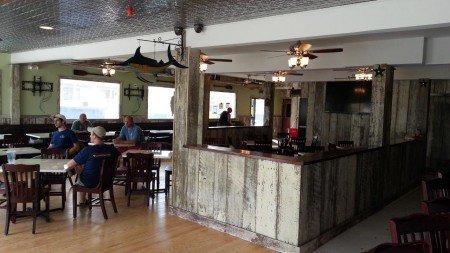 marble top bar and raw bar, while the second floor features indoor and outdoor seating on a front porch and a horseshoe-shaped bar. The outside space also includes a playground, shaped into a ship with a rowboat and sharks head.
While the Ropewalk Federal Hill maintains more of a tavern feel, the Ropewalk Fenwick leans more towards destination dining, with an extensive menu, kid-friendly options, and ample seating. One notable feature found at both establishments are the wings. The Ropewalk in Baltimore is known for its wings, with their Victory Wing Sauce receiving top honors when they clenched the Baltimore Wing War title. The same wings and nine flavor varieties are also available at the Ropewalk Fenwick Oyster House.
Of course it wouldn't be an oyster house without oysters. There are ten varieties of oysters available, however the type of oysters changes with the seasons. "We typically rotate what's available every couple of weeks depending on what's available and what's freshest," explained Executive Chef Frank Camponella. Currently, Ropewalk is shucking Gipper Bays, Wianno's, Salt Ponds, Blue Points, Chincoteagues, Beau Soliels, Cape Cod Salts, Katama Bays and Malapaques.  So far the raw bar has been a major draw for locals and tourists. "We even have our own oyster bed where the oysters are harvested exclusively for us," said Camponella. Also popular is the Buck a Shuck Ropewalk Liberty oyster special.
As for the rest of the menu, expect a wide variety of beach fare, with a heavier emphasis on fresh seafood with a modern twist. "We are definitely known for our seared scallops dish, and a lot of people really like the Bada-Bing Shrimp" said Camponella. The Bada Bing Shrimp come crispy breaded and tossed in a creamy sweet thai chili sauce with diced scallions. The seared day boat scallop entrée includes fresh, jumbo scallops pan seared and served with sautéed heirloom tomatoes, grilled corn and jumbo lump crab over orzo pasta tossed in a light champagne sauce. The fresh catch is also a must-have item off the menu, with fresh catches arriving daily and including the likes of halibut and rockfish. Camponella noted that it doesn't get much fresher than the fish at Ropewalk, with a daily 2a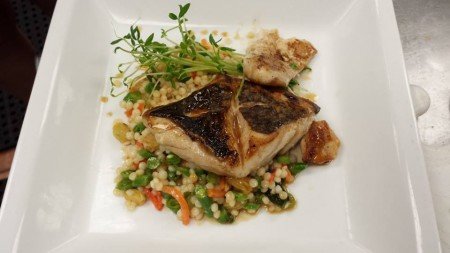 m call from the local docks dictating what the daily catch on the specials menu will be.
Drinks are also available at Ropewalk, with a full-bar open every night until 1am. "We have tons of specialty drinks," said Thomas, "but the most popular is probably our signature drink, the Ropewalk Mule." Composed of Russian Standard Vodka, Thatcher's elderflower liqueur, fresh lime and Regatta ginger beer and garnished with candied ginger, the Ropewalk Mule arrives in a copper mug. Tradition is paramount for the Ropewalk family, and that includes the tradition to never close early. "It's something we've always done," explained Thomas. "We never close early and that's been really successful for us."
As for the off-season, the Ropewalk crew is gearing up for football, a shift in crowds, and a new fall menu. With 14 televisions situated throughout the restaurant and two more on the way for the outside deck, there will be ample opportunities to catch the football games this fall at Ropewalk. As for the Ropewalk's official team, Thomas noted that Ropewalk would remain neutral grounds, as she, Frank and the owners are each hardcore fans of different teams. Football specials will run every Sunday, with $2 Miller Light and Coors Light drafts and bottles, $4 slushies, half-price wings and Buck-a-Shucks all day long.