Salisbury University Bands Battle it Out During Homecoming Week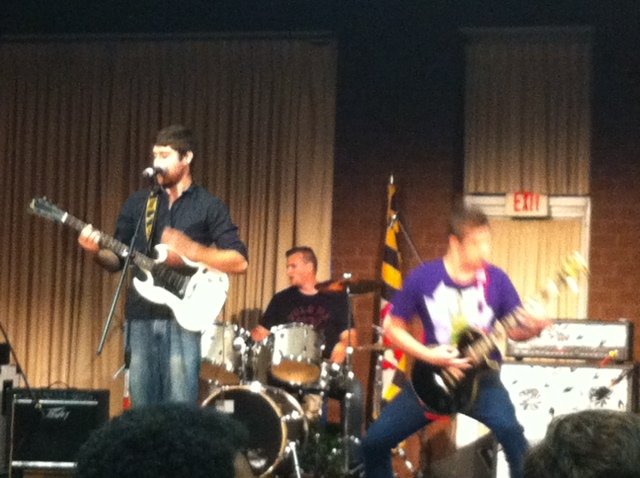 Doors could not hold back the sounds of last week's Homecoming event, Battle of the Bands. Guitars and drum beats reverberated through the halls of Salisbury's University Center as four student bands competed to be the best of the best. Although SGA representatives reported that they were disappointed that the event had to be moved inside due to weather conditions, there was no lack of enthusiasm from the crowd. All who attended the event (including us of course) had a rocking good time listening to live music and watching the carnage of the annual wing eating competition.
The first group, High Tide Vibes arrived along with a small mob of groupies shouting the band's praise. The acoustic group crafted a relaxed feel with their vibes, setting the bar high for event. The three original songs played by the band left us longing for a summer's day at the beach.
Camden Lights roared onto stage next with their drums and electric guitars blaring. The group of three guitarists and drummer put on a mini rock show that thrilled the crowd and had everyone bumping in their seats. There was plenty of head banging provided by one group member while the lead vocalist showboated for the university's paparazzi-like photographer.
As an intermission, Buffalo Wild Wings provided forty pounds of chicken wings for the annual wing eating competition. Participants were given two pounds of wings and two minutes to devour as much of the food as they could consume. When time was up, the basket of remaining wing parts was weighed to determine who had consumed the most. Some participants obviously showed up for the sole reason of eating free wings, while others were gobbling to compete. One lucky Salisbury student, who didn't mind getting his face dirty, won the grand prize of an Ipod Mini.
Third on stage, Two Weeks Notice had some technical difficulties but still managed to pull off four great songs. Their set featured covers of Green Day's "She" and Blink 182's "Feeling This" that proved to be audience favorites.
Last but not least, Aero Dynamic impressed listeners with their performance of popular Daft Punk songs. The group was a collaboration of multiple keyboardists, guitarists and a stellar singer. Lead vocalist and music major, Tyler Brunner leant his wonderful voice to the music as well as his eccentric dancing that was a hit with audience members. Brunner described his performance as "letting his spirit flow through the music."
Although we thought all the bands were great, Camden Lights won the crown for this year's battle.