Salsa Socials Debut in Ocean City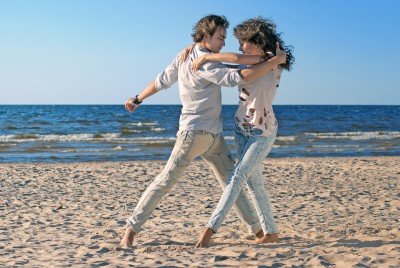 We are always on the lookout for new events and activities across the Shore, so when we caught wind of a "salsa social" happening  a few weeks ago, we were eager to join in on the fun. On April 19th from 7:00 pm to 10:30 pm, The Art League of Ocean City opened its doors to dancers and Latin dance enthusiasts alike for their first Salsa Social. Locally known dance collective, "Salisbury Salsa Socials," partnered in the event at the Center for the Arts on 94th street in Ocean City MD, bringing their salsa expertise and flair to the occasion.
The evening included a 45 minute instruction taught by experienced dancers, Wayne and Margo Faircloth that focused on basic Latin dance. Shortly after the floor opened up, giving everyone a chance to try out their new moves. These socials entice those of all ages, backgrounds and skill levels. These Salsa Socials also provide an educational platform for locals to communicate, enjoy themselves and perfect the art of dance.
The Salisbury Salsa Socials first started in October of 2013 and have grown from a small handful of dancers to a vibrant Salsa Social dance collective. On their journey they have gained the support of the majority of the local dance instructors that offer Latin dance, as well as other business and organizations such as the Art League of Ocean City.  A major factor in the group's success is the fact that anyone and everyone are welcome at their socials with dancers ranging from 16 to 70. All the social attenders vary in age and uniqueness.
"We have a range of backgrounds; ethnic; religious, professional, you name it. That is one of the beauties of this style of dance" Salsa Social Chair, Mimi Gedamu proclaimed. "Our events are family friendly and are a revolutionary trend in the social life of the local shore. We provide an environment where people young and old, beginner and expert, and everything in-between can come and enjoy themselves. The most striking thing to see when you sit back and watch the evening unfold is the joy on people's faces. There is a curiosity in everyone's eyes during the lesson as people from all walks of life have fun exploring the welcomed challenge of a perfect new art" Mimi also added.
Executive Director of the Art League of Ocean City, Rina Thaler was more than thrilled to provide an encouraging environment for the group and the public, saying "We are pleased to host this group at the center, and to bring diverse offerings to the community." Staff, dancer and artist Monika Lilley (who became involved with the group after she started dancing socially back in October) was also delighted and even participated in the event. "The instructors are excellent and all the dancers are friendly and will dance with you no matter your skill level…I found that out quickly! Dancing is so fun I have always wanted to learn to dance but was always shy. The first time I attended a dance was one of the salsa socials this group puts on. They were so welcoming and the atmosphere was so relaxed that I felt comfortable even though I didn't know anybody. Since then I have made many friends and enjoy the social aspect that dancing brings. Dancing is so good for both mind and body!"
To find out more about the group, "Salisbury Salsa Social" and to check out what they have been up to, go to www.SalisburySalsaSocial.com .