Save the Date for the Habitat for Humanity Holiday Gala for Homes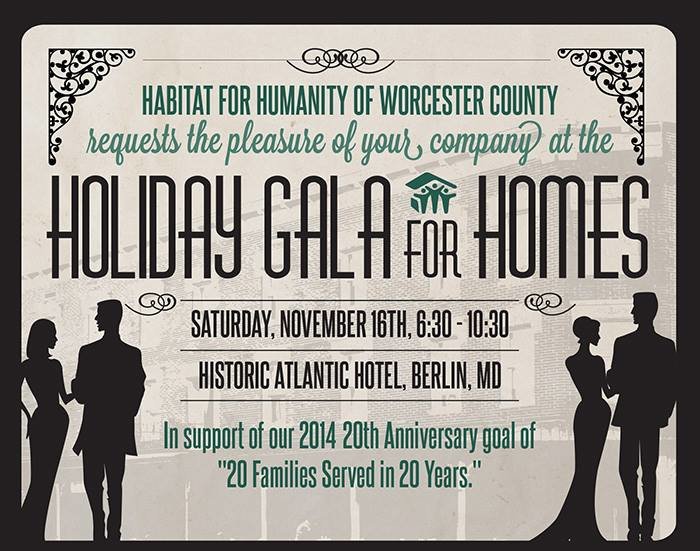 Join your local businesses and restaurants this Saturday to support the Habitat for Humanity of Worcester County and its inaugural Holiday Gala for Homes.
The gala will take place this Saturday, November 16th at the Historic Atlantic Hotel in Berlin from 6:30pm to 10:30pm. Poised to be one of the organization's biggest events, the black-tie affair will include a silent auction, four bands and food from popular area restaurants. "We are so thankful to have received so much support from the Atlantic Hotel, 8 other restaurants who are really providing quite an amazing spread, and local businesses who have donated so many items for the silent auction," said Executive Director Andrea Bowland this week.
"The Atlantic Hotel is really a symbolic location to hold the Gala," said Bowland. "The Hotel's been in place since 1895, providing shelter to so many people. And it's in the heart of Berlin, a town with such a strong sense of community."
Bowland explained that the event is progressive in nature, with each room or tent featuring a different tapas-style menu item, sense of ambiance and accompanying musical acts. The evening will include an open bar, as well as a variety of cuisines ranging from vegan to lamb, rare tenderloin to caviar. "The entertainment spans from regional acts like the Bumper Jacksons, who play jazz and pre-war country and really know how to create a foot-stomping good time, to Scott Sax, who is a Grammy-winning songwriter, accompanied by his wife, Suzy, to Angela Sheik, an amazing songstress who sings like Billie Holiday," said Bowland.
The evening begins in the Premier Tent, which will include appetizers, cocktail hour (featuring a crush bar) and a performance by Angela Sheik. Appetizer selections in the Premier Tent are provided by Galaxy 66, Si Culi, Tex Mex and My Nature. Next, head to the Ballroom for tapas-style dinner offerings courtesy of the Atlantic Hotel, 32 Palm at the Hilton, Liquid Assets and Sunset Grille. Enjoy drinks as well, as you revel in a performance by Grammy-winning songwriter Scott Sax and Suzie Brown. For Southern comfort food and craft beers, stop in the Comfort and Craft Tent. Bumper Jacksons will be performing as you feast on Southern staples provided by The Globe while sipping on craft beers from Burley Oak. Finally, indulge in desserts courtesy of Baked Dessert Café while enjoying a closing performance by Bryan Russo and the Tragic Figures. "The night ends with a big performance by Bryan Russo and the Tragic Figures, a locally based act who have shared a stage with the Black Keys, Rusted Root, G. Love and Special Sauce and John Mayall," added Bowland.
Don't worry, the night doesn't end there, head to Burley Oak Brewery immediately afterwards for the Official After Party. Transportation will be provided to Burley Oak. A discounted car service for the entire evening is also available via Lovin' Life Limo's Ltd., however be sure to make your reservations early and mention the Habitat Gala for Homes to receive the discount.
Gala tickets are $125 per person – to purchase tickets, visit www.habitatworcester.org. The proceeds from the Holiday Gala will be applied to the organization's goal for 2014, "20 families served in 20 years." Habitat is already two-thirds of the way towards reaching that goal.
Habitat for Humanity of Worcester County, Inc. is a local affiliate of Habitat for Humanity International. Year-round, Habitat for Humanity of Worcester County provides safe, affordable houses for those in need by building homes from the ground up. Habitat also provides additional permanent housing solutions by performing critical repairs and weatherization for homeowners in need. "What Habitat Worcester does, whether it's through a repair project or a traditional build, is to provide shelter in partnership with families and with the support of the local community," said Bowland. The gala is part of an ongoing effort to "re-brand" the organization and put its efforts front and center. "That's why we are conducting this gala," said Bowland. "It's kind of to put the organization back into the community and for all of these efforts. We're pretty much re-branding our entire operation."
Bowland explained that part of the re-branding effort includes clarifying common misconceptions regarding Habitat for Humanity. For starters, Habitat does not build homes and give them away, rather, the families work with them until the building process ends, at which point the families absorb the remainder of the housing costs. Other misconceptions include who is being helped through Habitat. The organization serves families who are making between 30 and 60 percent of the area average income. "These families are literally your friends and co-workers," Bowland pointed out.
With the mission to eliminate substandard housing and homelessness in Worcester County by bringing families and our community together to help, Habitat for Humanity is a cause that we at ShoreBread support as often as possible. The holiday season is the perfect time to open your hearts and lend a helping hand. Why not start by celebrating at the Gala this Saturday night?
For more information, visit the Habitat for Humanity of Worcester County website or Facebook page.