Sea Hawk and Shangri-La Motels Maintain Family Traditions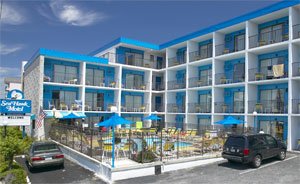 Ocean City is a town bursting with local pride. Local businesses are the heart and soul of Ocean City, whether it's a small surf shop or a 300-room hotel. At ShoreBread, we love to support our local businesses whenever possible – particularly family-owned and operated businesses that have been serving the town for decades. ShoreBread sat down with Shangri-La and Sea Hawk Motel co-owner and operator Pam Harrington this week, to take a look back on 40-plus years of business, the Ocean City hospitality business, and what 'family business' truly means.
"From the beginning my father thought it was very important to keep the family together and work towards one common goal," said Harrington, who started playing a part in the family business at the very early age of 14, when her father built the Shangri-La on 84th Street. "Basically, from the very start we were involved" she added. The Shangri-La was built in in 1969, with the Sea Hawk Motel – located on 124th Street – following shortly after in 1972. "We were involved in several businesses in town," said Harrington, noting that while her family worked in the seafood business in Dorchester County in the winter, they would spend every summer in Ocean City. However when her father decided to build hotels uptown, Harrington admitted that most of his friends thought he had lost his mind. "There was nothing around here back then," she said. "We could even see deer running around across the street. It was unheard of to be this far uptown." Harrington Sr. had enough foresight to see the future of Ocean City, and 44 years later, his vision has more than proven itself.
"We really have quite a customer base," said Harrington. "We have families that have been coming here for 35 or 40 years. They came here as kids and now they are bringing their own kids. We've become close with a lot of the families over the years."
Harrington, along with sister, Susan, and brother, Phillip Jr. operate the Shangri-La and Sea Hawk Motels, working together to keep the family business running strong, just as their father envisioned. "Family has always been important to us," said Harrington, adding that the family aspect is really the foundation of their business. "The three of us just get along so well. We invest a lot back into the business because we really do want to provide a good product." For the Harringtons, a good product means consistency, cleanliness, and comfort – all at a reasonable price. To ensure customer satisfaction, Harrington and her sister make sure they are present and hands on in the business, with Pam spending most of her time at the Sea Hawk and Susan at the Shangri-La. "The customers look for our faces," said Harrington. "They want to see that we are here and we want to be here for them."
The staff also helps keep customers happy year after year, with Harrington noting how blessed they have been to have such a loyal staff. Many staff members are enjoying their 7th or 8th year with the Harringtons, with a couple of employees who have been working at the motel for over 30 years. "We have a really, really good staff," added Harrington. "Our staff really is why we have succeeded."
Like most businesses owners in Ocean City, Harrington has noticed a change in vacationing trends over the past ten years, with vacations becoming shorter for families, the economy taking a toll, and the internet serving as both a blessing and a curse at times. The reality is a shorter vacation, said Harrington, with week-long visits turning into weekend trips. To stay competitive, Harrington and her family have always striven to maintain a good relationship with their customers, to ensure that they continue to vacation with them in Ocean City. "It's a lot of the same people that come back year after year," said Harrington, adding that town events and area attractions like Northside Park also help them to keep rooms booked.  Being uptown also has its benefits, with many customers enjoying being away from the more hectic downtown crowds.
Like most motels in town, Shangri-La and the Sea Hawk close from Mid-October to May, taking the time off to re-group and re-charge for the next season.  "We start taking reservations again in January. We do a lot of rehab in the off-season and a lot of repairs ourselves."
For Harrington, while working in the hospitality industry can certainly take its toll, at the end of the day it's still about maintaining the family business and enjoying what each summer brings. When asked what her favorite part of her job was, Harrington noted fondly, "I think it's just watching people have a good time. Just to see the families come back year after year – we've made a lot of friendships from this business."
In an economy that isn't always forgiving, the sight of siblings working together to preserve a family dream is nothing short inspiring. Perhaps that is why Ocean City takes such pride in their locals.