Seacrets Distilling Company Set to Debut in Summer 2016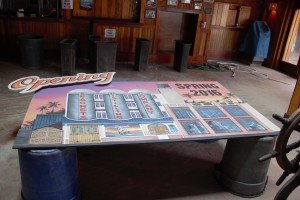 Note: This article was originally published on February 2, 2016. 
Over the years, Ocean City locals have watched Seacrets evolve from a small, bayside beach bar into a veritable resort compound. What started on June 29, 1988 as the best kept 'secret' in Ocean City for locals to enjoy a strong drink and a beautiful sunset has grown into one of the most popular bars in the America. Renovations and changes have kept Seacrets on the competitive forefront over the past 25-plus years, with the addition of new bar areas, the Nite Club, a beach and tiki stage, and Irie Radio, to name a few. The latest endeavor will add 12,000 square feet to Jamaica, USA, along with an entirely new reason to visit during the daytime….enter, the Seacrets Distilling Company.
Seacrets started distilling their craft spirits line, which is aptly called Seacrets Spirits, in May 2014 with the help of the team at Delaware Distilling Company in Rehoboth Beach. With a current lineup that includes blood orange vodka, spiced rum, coconut rum, white rum, vodka and gin, it soon became apparent that the need for a larger production house was on the horizon. "We began distilling up there in 2014, but we've just outgrown it," Seacrets owner Leighton Moore expounded this week. "We needed it closer," he continued, adding that having the distilling process on-site would work two-fold for the business; for starters, they would have easier access to their burgeoning product, but the distillery would also come to serve as a destination for tourists to enjoy during their stay in Ocean City. "If you can take an hour, as a tourist, on a rainy or cloudy day in Ocean City to spend on a tour, that's a pretty great thing," he said. Tours will be held during the daytime, seven days a week, running roughly 50 minutes in length and ending with a spirits sampling in the tasting room.
With construction underway, and with a target completion date of May, we were left to our imaginations to visualize what is to come in a few short months. As is the case with all of the Seacrets expansions and renovations, Moore has played an active role in the process, honing in on the small but crucial details of every inch of the new space, which includes everything from general logistics, to lighting, to the employee uniforms. The overarching theme of the distillery centers on the prohibition-era, which means you'll be seeing a lot of 1930s-stylings including the lighting, couches and tables, speakers, time clocks…right down to the 'December 5, 1933' date that will be emblazoned on the outside of the building (hint: Dec. 5, 1933 marked the end of prohibition). One of our favorite features however are the three identical English time clocks that visitors will use to clock-in at the beginning of their tour. The idea is that the tour will replicate a workers journey through the distillery. In fact, that same time card (once punched out) will grant visitors a 10% 'employees' discount at the retail store after the tour.
Another unique feature is the 40-person elevator that will bring guests up and down the four flights of the building as they are shown the distilling process in its entirety. Moore explained that while the décor and vintage outfittings are reminiscent of a museum, the building would still operate as a fully functioning distillery, producing up to 100,000 gallons of alcohol per year. "It is a working plant…every day, 8 hours a day, up to 7 days a week." Of course, the Seacrets Spirits will not be sold or distributed from the distillery directly; patrons will only be allowed three one-half shots/samples in the tasting room. For retail purchase or for a mixed drink, guests will be required to move on to Seacrets proper.
We couldn't resist guessing at Moore's favorite spirit to date (there are already more in the works of course), but we were wrong when we chose the spiced rum. Moore is a gin man, though he hinted that the spiced rum was perfect drizzled on ice cream or baked into rum cake (note to our fellow bakers).
And we won't give away all of the unique features just yet – for example, the 1950s Mac Truck to be called, 'Mac Daddy' – as we are eager for our follow-up article once completed. For more, stay tuned for the soft opening in May and the Grand Opening on June 29
The post Seacrets Distilling Company Set to Debut in Summer 2016 appeared first on ShoreBread.