Seasonal Cocktails to Keep You Warm This Winter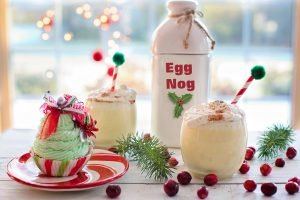 The best way to warm up in the chilly winter weather is not just by drinking something warm, but by drinking something with a little kick (and we don't mean spicy)! We've put together a list of just a few of our favorite seasonal-themed cocktails to keep you warm and cozy this winter.
Don't see your favorite drink, or have creative winter cocktails you'd like to share? Let us know and we can add it to the list!
A Very Merry Bourbon Alexander
Are you a huge fan of Bulleit Bourbon? This drink will make that desired taste you know so well come to life! Combine the below ingredients into a shaker with ice, shake, and strain.
1 oz of bourbon

1 oz of creme de cacao

1 oz of half and half

1 egg white

splash of simple syrup

dash of salt
You can make it fancy with a nutmeg, cranberry, and or rosemary garnish!
Your Not-So-Basic Pumpkin Spice Latte
It's not going to taste like your Pumpkin Spice Latte from Starbucks–sorry ladies! We think this version may taste just a little bit better… Put all of the following ingredients in tin and shake it up. 
.75 oz scotch

.75 oz carpano bianco

.75 oz copper & kings immature brandy

.75 oz coco lopez

3 spoons of pumpkin puree
Strain into a glass and sprinkle some nutmeg on top as both a garnish and an extra flavor pop.
Cocoa Buie
This winter, add a little something special to your hot cocoa while you sit by the fireplace, or entertain your friends and family. Combining the below ingredients, warm in a saucepan over medium heat.
2 oz drambuie

9 oz hot milk

3 oz hot cocoa mix

⅛ tsp cinnamon

⅛ tsp salt
Once it simmers, serve and garnish with miniature marshmallows.
Ginger Snap Martini
Ginger snaps are great to eat, but why not drink them too!? This winter martini combines all the flavors and spices that remind you of a cold winter day, but provides the exact comfort you are looking for. Combine the following ingredients in a shaker, muddle, and garnish with ginger!
1 part Grey Goose vodka

½ part amaretto

½ part simple syrup

½ part molasses

2 part thick slices of ginger
pinches of cinnamon, clove, and allspice
It's the perfect drink to serve at winter parties!
Angry Jolly Juice
Angry Orchard is calling your name in a new way! Boil 2 cups of water, steep tea bags, and add the rest of the below ingredients for a delicious twist on this Cinnful Apple Cider. Garnish with a lemon for an extra hint of flavor.
1

½

cups Angry Orchard Cinnful Apple
1 cup cranberry juice

½ cup brandy

½ light brown sugar

3 chai tea bags
Garnish with a lemon for an extra hint of flavor.
Of course, you can never go wrong with the tradition seasonal drinks! Don't forget about your go-to Bailey's and Coffee, Hot Toddy, or Hot Buttered Rum.
Drink up, and stay warm this winter!
The post Seasonal Cocktails to Keep You Warm This Winter appeared first on ShoreBread Eastern Shore Lifestyle Magazine.