Swim Ocean City Team Presents $10,000 Donation To Hopkins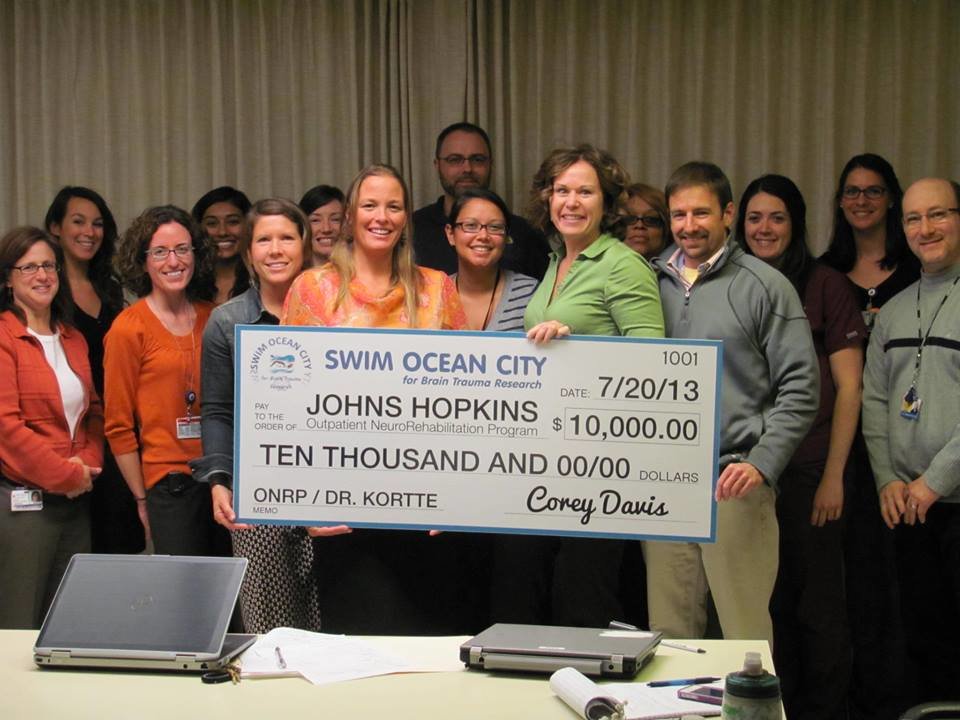 OCEAN CITY — On Tuesday, Oct. 29, Swim Ocean City Race Director and Creator Corey Davis delivered the goal amount of $10,000 to benefit the Johns Hopkins Outpatient Neuro Rehabilitation Program.
"It was incredible to have Corey come to Hopkins to present the check to the Outpatient Neuro Rehabilitation Program team. As a doctor and the director of the program, this is the highest compliment a patient can give. We know that Corey did not accomplish this alone, and the Hopkins neuro-rehab team thanks all the volunteers that gave of their time, equipment, expertise, particularly Captain Butch, Skip Lee, and the Ocean City Beach Patrol. Thank you all," said Dr. Kathleen B. Kortte, an assistant professor with the Division of Rehabilitation Psychology and Neuropsychology in the Johns Hopkins Department Physical Medicine and Rehabilitation as well as program director of the Johns Hopkins Outpatient NeuroRehabilitation Program (ONRP).
Swim Ocean City grossed over $22,000 and had a little less than 200 swimmers. Twenty-nine people entered the nine-mile race, 67 for the three-miler and 65 swam the one-mile race.  Over 43 Ocean City businesses sponsored the event.
"I cannot express the amount of gratitude that I have towards the local business sponsorship, participants, OCBP and town of ocean city support which made it a reality. I hope we can have another successful event next summer … July 19, 2014," Davis said.
ONRP is a multi-faceted program staffed by specialists in brain dysfunction who recognize the unique needs of each patient. Each individual's treatment plan is tailored to achieve the goals of restoring function and returning to important life activities.
The program hits close to home for Davis, who seven years ago received extensive care and therapy from Kortte's program.
"The visit brought to reality all the hard work and support that was received and gained an understanding of why Corey is so passionate about the program," said Traci McNeil, Swim Ocean City Co-Director.
What began as text between Davis and McNeil about swimming Ocean City for fun, developed into a full blown event. It took over eight months to obtain multiple approvals and over two months for planning, according to Davis.