Take a Hike Day: Favorite Spots for Hiking on Delmarva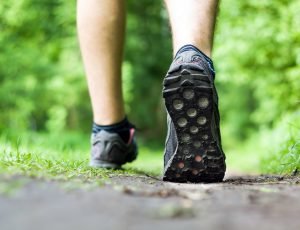 Friday, November 17th is National Take A Hike Day. Delmarva might be small as far as area is concerned, but it certainly doesn't disappoint with its plethora of parks and trails. This time of year is particularly special as the leaves transform into beautiful shades of red and orange and the summer crowds have subsided. We hope everyone can get out tomorrow and go for a hike. To help, here's a list of our favorite spots for hiking on Delmarva.
Gordons Pond Trail | Cape Henlopen State Park
One of the eight trails located in Cape Henlopen State Park, the Gordons Pond Trail is our favorite. The trail is 2.65 miles long one-way and has a beautiful new boardwalk with two scenic overlooks. From the overlooks, you have a beautiful view of the marsh and the beach with the WWII towers in the background.
Holts Landing State Park
Holts Landing is one of the lesser-known parks in Delaware. The small park boasts 203-acres of space with landscapes ranging from beaches to grassy fields to forests. Fun fact: Holts Landing State Park is home to the only pier on Delaware's Inland Bays that was built specifically for crabbing. Holts Landing is also home to two short trails: the Sea Hawk Trail and the Seahorse Trail. The Sea Hawk Trail is a 1.5 mile loop that follows the Indian River shoreline which makes for great birding and wildlife viewing opportunities.
Trap Pond State Park
Home to the northernmost natural stand of baldcypress trees in the United States, Trap Pond State Park became one of Delaware's first state parks in 1951. With nine trails to choose from (both on land and water!), there is something for everyone – regardless of level of physical fitness. Hike the Boundary Trail for a 3.6 mile loop through hardwood forests, baldcypress trees, and past the historic Bethesda Church.
Assateague Island
Assateague Island has a wide assortment of trails both paved and unpaved, along with 37 miles of beach to explore. With trails ranging in length from a quarter mile upwards of seven miles, you're sure to find the perfect route. Explore the dunes, forest, and marsh on the Maryland side of the park or choose from one of eight trails on the Virginia side. Each of the trails on the Maryland side are designed to teach visitors more about the life of the ecosystems that are inhabitants; learn more about the native plants and wildlife as you take in the beautiful scenery.
Pocomoke River State Park
Aptly named, the Pocomoke River State Park is located along the shores of the Pocomoke River, lined with loblolly pine trees and Cypress swamps. Hike the Trail of Change in the Shad Landing area of Pocomoke River State Park. This self-guided, one-mile-long loop weaves through the wooded area and is home to many different wildlife and plant species.
Enjoy the clear, cool weather tomorrow on National Take A Hike Day and get outside. Let us know where your favorite spots are for hiking on Delmarva!
The post Take a Hike Day: Favorite Spots for Hiking on Delmarva appeared first on ShoreBread Eastern Shore Lifestyle Magazine.