The Freeman Stage Celebrates 10 Years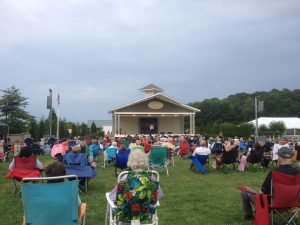 According to Merriam-Webster, ardent is defined as "characterized by warmth of feeling typically expressed in eager zealous support or activity." If we've ever met two ardent human beings, Alyson Cunningham and Patti Grimes are those people. As the team at The Freeman Stage prepares to announce their lineup for 2017, we sat down with Alyson Cunningham, Communication & Public Relations Manager, and Patti Grimes, Executive Director, both of the Joshua M. Freeman Foundation to talk more about what the organization does for our community. We had to look for quite a while to find a word that adequately explained the amount of pride and enthusiasm these two have for what the organization does.
About the Joshua M. Freeman Foundation
The Joshua M. Freeman Foundation was founded by Michelle Freeman in 2007 in honor of her late husband, Joshua M. Freeman, after he passed away. Alyson told us that the organization's mission is "partnering to present memorable performances and provide inspired arts education for all." In 2017, the foundation is preparing to celebrate its 10th year. The Freeman Stage is just one of the many programs the Joshua M. Freeman Foundation funds. Since its inception, over 322,000 people have visited The Freeman Stage and over 60,000 students have experienced the arts through their programs. Alyson explained that the organization's goal is to "offer unique and diverse arts workshops and performances for free or at low costs for the community." From national recording artists to dance troupes and from Huey Lewis and the News to Melissa Etheridge, the organization strives to bring world-class performers to Delmarva.
The Freeman Stage
The Freeman Stage was the first program of the Joshua M. Freeman Foundation because before its creation, residents had to travel outside of Delmarva, to Philadelphia, Baltimore, or Washington D.C., to truly experience the arts. Alyson joked that Delmarva was once an "arts desert" but she went on to explain that the community is now extremely grateful that the organization is here to provide art for them so close to home. "We couldn't do anything we do at The Freeman Stage without the support of our community and we are very thankful."
Arts and Education Programs
One of the other programs offered by the Joshua M. Freeman Foundation are their arts and education programs. In 2016, the Joshua M. Freeman Foundation hosted 41 arts and education events. The arts and education programs take place in-school and also at the stage. Last year, 8,000 children visited the stage over a three day period to take part in workshops and performances of all different styles.
For another project, the Joshua M. Freeman Foundation teamed up with local artist, John Donato, to visit middle schools in Sussex County. They spent a week at the school and rounded up students from all grades. They asked for 100% participation – even the administrators and teachers participated – and each person created their own painting of a book spine. Each school picked a theme for their project. Some schools focused on anti-bullying campaigns and others wanted to incorporate character building into their projects. Regardless of theme, the schools wanted to focus on themes that allowed the students to think positively and frow. Artist, John Donato, then took each person's book spine and painted them into beautiful bookshelves throughout the schools. Alyson explained that the mural projects are incredibly rewarding for the schools and they call them "legacy mural projects." The intention is that the murals will remain in the schools forever so as those children grow up and have children of their own, their children can walk down the halls of the school and see the art project their own parents helped create. Alyson also told us that the projects help teach the children that you don't have to be perfect. She said, "you might not think of yourself as an artist and one line might not be perfect, but if you work on it and work together, it can be beautiful." And that is just what the mural projects want to teach the students of our community: if you work together, we can all make our community a beautiful place. The foundation completed three mural projects in 2016.
Other projects focus more on dance and the spoken arts. Last year, Illstyle & Peace Productions went out to the schools to give students a hip-hop presentation. During the presentation, they taught students, not only some dance moves, but they also taught them the history and origin of hip-hop dance. During another presentation, the Delaware State Poet Laureates created a poetry program for high school students. The team from Brown Box Theatre Project created a voice and movement workshop with the kids. The foundation also teams up with the Washington National Opera every year to host a workshop. The goal of all of these events is to get kids out of their comfort zone and teach them that you can express yourself in many different ways.
Outreach Programs
The third program of the foundation is their outreach program. Through their outreach program, they invite any non-profit to come and enjoy a performance at the stage. And when they say "any non-profit," they truly mean anyone. From the local senior assisted living center, to the Westside New Beginning Community Center in Rehoboth, to children's beach house families, everyone is invited to come enjoy a show. This program allows people who normally wouldn't be able to see a show otherwise to enjoy a show.
In fact, the foundation will actually have a new stage ready for this season and, in true Freeman Foundation style, the children will be the very first to see it! Students in grades 3-5 in Maryland and Sussex county schools will flood the stage the week before Memorial Day for six different performances. They are estimating that 8,000 students will be in attendance during the event. That Saturday, there will also be a public performance at the stage. Patti told us that the children are always so excited to come back with their family. She went on to explain, "it's exciting that we have these children to be our ambassadors and advocates." Patti also explained that for some of these children, this is often their first time seeing a live performance.
Freeman Stage Performances
When we asked Patti how they got such incredible, national performers to come to little, old Delaware she responded, "it's always interesting to see how the plane lands." But she went on to explain that all the performers often want to return because they love the intimacy and energy from the venue.
If you've ever attended a performance at the Freeman Stage, you'll notice that all the volunteers are just so happy. We couldn't resist an opportunity to ask Patti and Alyson just why their volunteers were so happy! Patti responded, "our volunteers are out on the field representing who we are and we couldn't be more grateful for our 200+ volunteers exemplifying our culture and living our mission." Patti went on to explain how much she enjoys seeing everyone leaving with a huge smile. "When we thank them for coming, they turn and say, 'no, thank you.'"
But the team works incredibly hard to make the stage well-known for more than just their national acts. "We want everyone to belong and represent all areas of the arts," Patti told us. They spend countless hours finding performers from all categories: dance, ballet, rock, country, orchestras, tribute bands, and everything in between. "Whether someone is 80 or 12, it's something magical to see everyone sing along. Whether you have two left feet or you belong on Dancing With The Stars, everyone is welcome here to let their guard down," Patti reminded us.
Every Saturday morning, there is a children's performance at the stage. The shows are open to the general public and they are all free to attend. The children's performances range from puppet shows to dance acts to storytelling. The foundation really does try to keep their costs to the public as low as possible because they truly want everyone to be able to experience the arts. Children 12 and under are always free for general admission events (excluding national performing artists).
New for 2017
The stage has listened to feedback from the community and is making some changes for the 2017 season. They are excited to offer a long list of improvements for their 10th season.
The new stage will allow for additional performances to be hosted. They have regarded the lawn to help with the line of site during performances. They have selected a new ticket vendor that allows patrons easier purchasing and even more payment options. They are moving up the time the gates open, based on attendee feedback, so patrons have more time to eat and mingle before the shows. They are even making their website more mobile friendly to increase the ease of access for their visitors.
"We want the experience to be as enjoyable as possible throughout the whole process; from buying tickets to visiting the stage," Alyson told us.
Stage Sponsors and Donors
Patti and Alyson wanted us to make sure we included the generosity of their stage sponsors and donors. "Without them, we wouldn't be able to offer the wide array of programming that we do," Patti explained. Patti went on to explain that, "many people know us for our work at the stage, but our real work is with the children." The foundation is always looking for additional stage sponsors and donors so they can offer additional arts programs to the children of our community.
In fact, 80 cents of every dollar donated goes right back to the community. Since 2008, the economic impact of the foundation on our community has totaled $13 Million!! Like we mentioned earlier, 322,000 people have visited the stage and almost 60,000 children, that may not have been able to experience the arts otherwise, have been able to do so with the help of the foundation. In 2016, 200 of the foundation's volunteers were recognized with the Governor's Award for Service.
So, on March 15th when the Freeman Stage announces this year's lineup of over 50 amazing artists, make sure to check it out. Plan a trip to the stage to surround yourself with positive energy and let yourself go for a few hours. Consider donating to the foundation – either monetarily or with your time – because so much of their donations go right back into this community we love to call home. Every time you visit the stage, remember that you're helping improve the lives of our children and exposing them to different cultures they would likely never get to experience.
The post The Freeman Stage Celebrates 10 Years appeared first on ShoreBread.