The Restaurant at Lighthouse Sound Receives National Honors for Scenic Views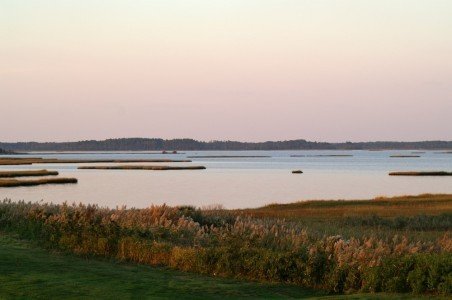 To say that driving down St. Martin's Neck Road in Bishopville is taking the scenic route is an understatement. The view of the Ocean City skyline and the bay are enough to make you pull your car off the road and take a moment to fully enjoy the view. It's no wonder then that The Restaurant at Lighthouse Sound – which is strategically positioned to capitalize on those same views – has been named as an OpenTable Top 100 Scenic Restaurant.
Lighthouse Sound was opened in the spring of 2000, with original plans calling for a mega housing project. Instead, Lighthouse Sound was developed as an environmentally sensitive community, with a minimum number of houses. The premier views were reserved for the golf course, the club house, and the restaurant, giving rise to golfing and dining experiences with unparalleled views. The restaurant serves as a complement to the entire Lighthouse Sound experience, positioned to maximize the spectacular vistas across the bay. While one might think the restaurant is for members only, the restaurant, club house and golf course are all open to the public.
OpenTable, the world's leading provider of online restaurant reservations, selects 100 restaurants from across the United States each year. According to OpenTable, the awards reflected the combined opinions of more than 5 million reviews submitted and verified by OpenTable diners for more than 15,000 restaurants in all 50 states and the District of Columbia. The list of winners spanned 29 states, with winning views ranging from urban landmarks to natural wonders. While California was the frontrunner with 22 honorees, the state of Maryland came in third place with six winning restaurants, two of which are right here on the Eastern Shore. The Hobbit, located on 81st Street in Ocean City, was also named a Top 100 Scenic Restaurant.
Banquet Manager Olya Tilley wasn't surprised to be awarded the honor, considering the breathtaking views that her and her customers enjoy year-round. While Tilley gave nod to other restaurants in the area with scenic views, she pointed out the benefits of choosing Lighthouse Sound over other properties. "It's completely different here," she said. "It's less hectic than being in Ocean City while still basically being in Ocean City." Tilley went on to add than many of The Restaurant at Lighthouse Sound customers choose to travel off the beaten path to Bishopville to avoid traffic congestion in town and to avoid having to travel over the bridge. "It's very peaceful here," she said.
Lighthouse Sound is just a few miles from the resort town, located on St. Martin's Neck Road off of Route 90. Tilley explained that many visitors, and even locals, are consistently impressed when they discover The Restaurant at Lighthouse Sound. "Besides what they see, we have amazing food," explained Tilley. 'We strive to provide quality service as well." The restaurant is open for both lunch and dinner, and welcomes all ages. Considered "upscale casual," one can enjoy a romantic evening or a casual dinner with the whole family. As for the signature dish, according to Tilley it's definitely the crab cakes.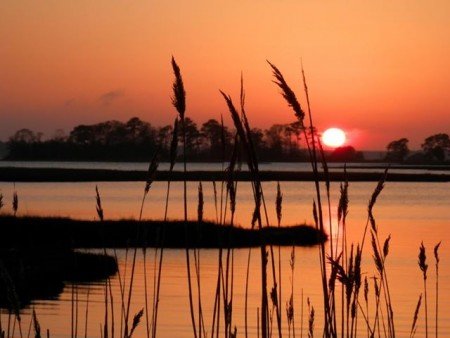 Another popular draw is the 'Two Can Dine for $65" deal, offered daily excluding holidays. Parties of two enjoy a choice of soup or salad per guest, a choice of entrée per guest, a choice of side per guest, a choice of one dessert per two guests and a complementary bottle of house wine…all for $65. "It's really, really popular," said Tilley. "You're really getting a lot of food and it's a great option for date night."
Between the views, the consistent service and the deliciously inviting menu, the restaurant has developed a sound following over the years, with a diverse customer base of golfers, families, tourists and locals. "It really is a mix," said Tilley, "On the weekends we have a lot of out of town guests, while during the week we see most of our regulars."
Many customers also take advantage of the spectacular views by choosing to host banquets and events at the restaurant. "We host just about everything here, it's a great holiday party venue. We have business meetings and conventions, just about anything," said Tilley. Weddings are also wildly popular at the venue, with 39 weddings scheduled for just this year. While the amenities play a major factor, the views are typically what seal the deal. Tilley added that many couples that get married at Lighthouse Sound end up returning for anniversary dinners.
Whether it's for an intimate dinner or a larger gathering, Tilley encouraged new and returning guests to head back out to The Restaurant at Lighthouse Sound for an afternoon or evening out, and if nothing else, to take in the now award-winning views.