The ShoreBread Wine Trail Continues to…Costa Ventosa Vineyard and Winery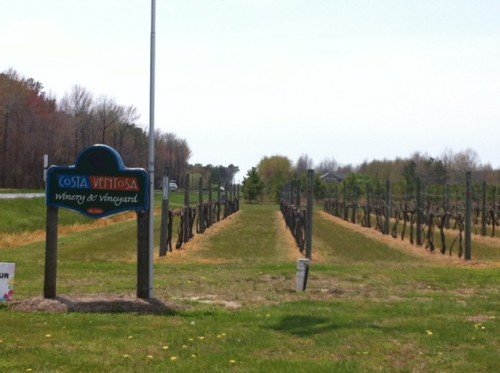 Next stop on the Wine Trail that we visited was Costa Ventosa Vineyard and Winery in Whaleyville. This lovely little spot was not too far off the beaten path, right off Route 50 near Berlin, making it an easy destination to locate and plan for a return trip.
This mom and pop winery established its roots in 2006 when owner Jack Lord decided to retire from the produce business. He and his wife Kathryn first decided to focus on selling grapes, however they found a better business in making and selling wine. "We started planting grapevines…with the idea to just sell the grapes to other wineries but after experimenting with our own wines, we decided to produce wine and open a tasting room," Kathryn told us.
The inspiration for the winery's name, which means "windy coast" in Italian, came from Kathryn's Italian heritage as well as the local weather. "It's always blowing here," Jack told us. Living near the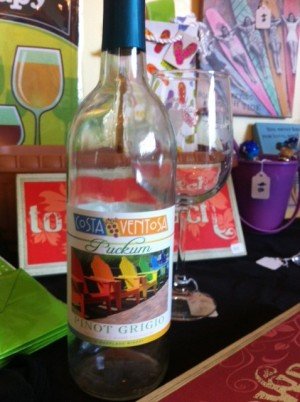 water, I think we can all relate. The name is not the only aspect with European flair, the vineyard is also designed in an Italian style. After traveling across the pond to see authentic Italian vineyards, Jack came to the conclusion that he kept his vines a little tidier. "Our vineyard is better than the ones we saw in Italy. They just let everything grow everywhere," Jack said.
We sat down with a circle of friends to taste the products of these well-groomed vines. We sampled the Riddle Farm Riesling and enjoyed the award-winning, sweet flavor. We're not the only ones who liked this wine, not only is it a local favorite but it also won last year's best sweet white wine in Maryland. The Riesling's brother beverage the Puckum Pinot also won best dry white wine in Maryland. So if you're sipping on Costa Ventosa's white wines, you're drinking the best wine in the state!
Of course their reds are good too, like the Whaleyville Red which the neighboring community can't get enough of. The Country Girl Rose also has a reddish hue and an interesting back story. One of the winery's employee's was a real "cowgirl" as Jack told us, who was unfortunately killed in a car accident. The Lords not only named this wine after her but also made a donation in her honor to a therapeutic horse riding club that she belonged to. Now for every bottle of Country Girl Rose that is sold, Costa donates one dollar to the  equestrian charity.
Other than this touching story, we were also tempted to buy every bottle in the store because of their colorful labels. Every bottle was wrapped with a rainbow of colors. For example, the Riesling has a portrait of Kathryn's pony Twinkie and the Country Girl Rose features a line of multicolored cowboy boots. Each wine also has a name that ties to the region, like the Tuckahoe Merlot and the Assawoman Bay Chardonnay.
If you are looking to host an extra special event, Costa Ventosa is the place to do it. Jack told us that they host a multitude of events like Relay for Life events, birthday parties, fundraisers, bridal showers and rehearsal dinners. We foresee ourselves planning a girl's night out at the winery, surrounded by great wine and great friends – we can't wait to return!