Then & Now: St. Michaels' Old Mill District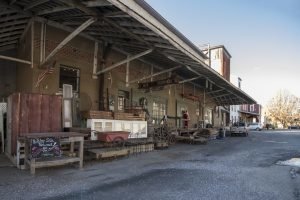 Nestled between East Chew Avenue and East Marengo Street in St. Michael's you will find the Old Mill District.  This area of St. Michaels is definitely worth exploring, with wonderful shopping, delicious food and a rich history.  For your food and beverage needs, be sure to stop by Gina's Cafe for a delicious lunch or dinner, St. Michael's Winery for a taste of their famous slushies, Eastern Shore Brewing to sample a flight or Lyon Distilling to try the first rye whiskey made in Maryland in 40 years.   
Unique shops also reside in the Old Mill District, including Iron Will & Woodworks, The Mill Vintage Market and Ophiuroidea. The Old Mill District also houses a number of professional services, an artist's studio, The Sail Loft which built the sails of the yacht that won the Bermuda Race in 2000, Ye Olde Cabinet Shoppe and The Music Loft, a guitar repair shop.
Before becoming a great place for visitors to spend an afternoon, the Old Mill District was simply a mill that produced "Just Right Flour".  In 1890 the mill caught fire, but was re-built to be a functioning mill. The mill was originally located on Mill Street near the harbour, but was later moved to its current location.  The mill was active until 1976 when regulations were updated and the mill closed its doors.  The silos were removed and the property was sold to Mr. Tad Dupont and his brother, lovers of restoration and historical preservation.  Today, this building houses 13 businesses with a total of about 40 employees, contributing the St. Michaels economic development.  Some of the businesses in this area still have the features of the mill within them. The Old Mill District, and nearly all of St. Michaels is incredibly walkable.  Next time you're in St. Michaels, don't forget to visit The Old Mill District for a blend of old and new!
Photos by Stefanie Barfield & Erica Tyler
The post Then & Now: St. Michaels' Old Mill District appeared first on ShoreBread.