Tips for Enjoying Ocean City's Springfest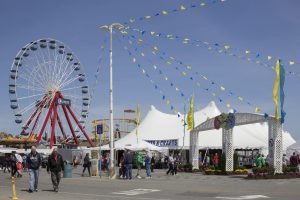 One of Ocean City's largest festivals, Springfest, is upon us.  The boardwalk will be full of activity all weekend, starting on Thursday.  For those interested in shopping there will be over 300 craft vendors at the festival.  When looking for a snack to keep you going through the day there will be food vendors at the festival, and of course all the wonderful food shops along the boardwalk.  Late in the evenings on Thursday, Friday and Saturday the indoor stage features ticketed performances.  Thursday at 7:00pm the indoor stage will welcome The Fabulous Hubcaps, a band that plays classics from the 1950's and 1960's. Friday at 8:00pm is Josh Turner, a country music star. On Saturday at 8:00pm Joan Jett and the Blackhearts will be performing. Aside from those three performances, there will be over 30 free live entertainment acts between the outdoor and indoor stages.
Springfest has free admission, so come and go as you please throughout the weekend!  Thursday – Saturday Springfest is open 10:00am – 8:00pm.  On Sunday, Springfest opens at 10:00am but closes a bit earlier at 6:00pm.
Springfest Tips:
Take the Bus – Springfest is located in the Ocean City Inlet, making downtown parking very limited.  We suggest taking the bus! The Park & Ride is great option for those entering Ocean City via Route 50.  Pay $3 cash (exact fare) and ride all day with stops at South Division Street, a short walk to Springfest, the Tanger Outlets and the Park & Ride.  This is a quick and easy option as there are only 3 stops along the route.  For those along Coastal Highway, the beach bus has stops every few blocks, and is $3 to ride all day (exact fare).  This bus will also stop at South Division Street.

Park Smart – While we definitely prefer the bus for this event, we understand if you need closer parking because you plan on purchasing a large item.  There are a number of metered spaces along the streets of downtown Ocean City.  Use the Park Mobile app to get alerts when your meter time is about to run out and add more time when needed right from your smartphone.

Bring Cash – While some of the vendors now accept cards, it's best to have cash at the ready if needed.  There are ATMs available near the boardwalk tram station, as well as other locations along the boardwalk, but we like to be prepared and avoid any extra fees.

Plan Your Trip – Need a place to stay?  Make reservations!  It's never fun to find that your choice hotel is sold out for the evening.

Enjoy All the Boardwalk Has to Offer – While you're at Springfest, don't forget to take advantage of all the boardwalk has to offer.  The incredible Ocean City Life Saving Museum, Trimper's Rides, Jolly Roger Pier Rides, a boardwalk tram ride, Ripley's Believe It or Not and all the fun shopping are not to be missed.
The post Tips for Enjoying Ocean City's Springfest appeared first on ShoreBread.