Top 10 Food Trucks on Delmarva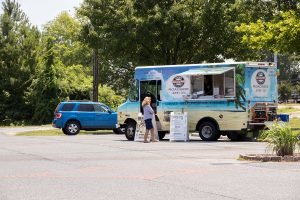 When you think of food trucks, what city do you think of visiting? Perhaps Austin, New York City or Washington DC?  The food truck craze has crept it's way onto Delmarva, and we couldn't be more pleased.  Take a look at some of our favorite food trucks in the area, in no particular order.
Usual Location
19406 Coastal Highway, Rehoboth Beach, DE
Taco Reho features a rotating menu of deliciousness.  They are usually located on Coastal Highway in Rehoboth Beach, but make sure to check their Facebook page to see if they're on the road when you're planning to visit. 
Permanent Locations
33230 Coastal Highway, Bethany Beach, DE
6758 Maddox Blvd., Chincoteague Island, VA
Doughnuts that come hot and fresh are our favorite, and now we can get them in Bethany and Chincoteague!  You have to try a chocolate covered pretzel doughnut and a blueberry pie doughnut.  
Permanent Location
6382 Maddox Blvd. Chincoteague Island, VA
Their rotating menu of taco creations makes our mouth water.  Our favorite is the Crab Cake Taco.  Select days they also open for breakfast, where they sell a limited quantity of empanadas.
Usual Location
900 Palmer Street, Milton, DE
If you're craving creole stop by Po' Boys in Milton. As the name suggests, they make incredible po' boys and a host of other southern dishes like jambalaya and beignets.  Before stopping by, check their Facebook page to see if they're on the road. 
Permanent Location
6503 Maddow Blvd., Chincoteague Island, VA
BYOC stands for "build your own cookie". Fresh baked cookies are topped with ice cream and your choice of toppings. There are so many great flavor combinations to try!
Traveling
Rosenfeld's Food Truck has been spotted all over Delmarva.  They don't have a permanent food truck location (though they do have a traditional restaurant in Ocean City) but their website is great about letting you know exactly where they'll be each day.  Their giant sandwiches and eclairs are definitely worth the trip!
Traveling
Often in the Salisbury area, Vittles specializes in grilled cheese creations. We've also seen tacos and flatbreads. Each week Vittles posts their schedule on their Facebook page. 
Permanent Location
6527 Maddox Blvd., Chincoteague Island, VA
We can't resist the pit beef, pulled pork and crabby fries from Smokey's.  This location even offers delivery!
Traveling
Delicious Craving serves kebabs, quesadillas and wings.  Their jumbo lump crab quesadilla can't be beat, and while we're speaking of crab, you can't go wrong with crab fries.  Be sure to check their Facebook page to see where you can find them! 
Food Trucks on the Circle in Chincoteague
Permanent Location
6700 Maddox Blvd., Chincoteague Island, VA
We couldn't narrow down just one of the great food trucks on the circle in Chincoteague.  A trip here means that everyone in the family can have something different.  Woody's Beach BBQ offers delicious pulled pork, ribs and smoked chicken. Bettye's offers amazing build your own burgers.  May we also suggest an Apple Bettye?  The Farmer's Daughter offers tasty salads and sandwiches (shrimp po' boy anyone?).  The atmosphere of this location can't be beat with games for the kids, hammocks to lounge in and fun decor.
The post Top 10 Food Trucks on Delmarva appeared first on ShoreBread.