Top Ten Reasons We Want to Break Up With Winter and Marry Summer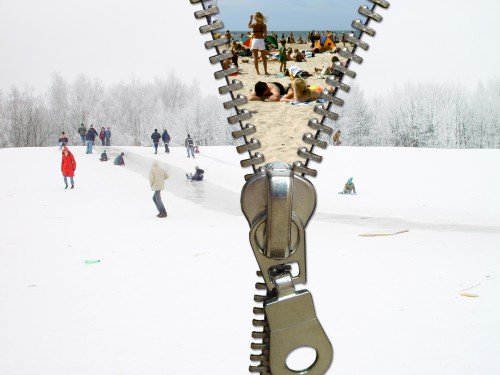 It's a snow day, which leaves us wondering whether we want to place a sad or happy emoji at the end of this sentence…
We don't know what to feel about snow days. On the one hand, it's nice to have an excuse to make some yummy comfort food and embark on a Netflix marathon, but on the other hand, some of us still have to work or venture out into the elements. Such is life. Whether you are rejoicing in or cursing at Mother Nature right now, it's safe to wager that your inner beach bum is dying to get out. At least once a day we catch ourselves longing for summer, and as the events calendar fills up for the summer of 2014, we get increasingly more excited for donning a sundress and flip flops. But as we said before, such is life.
In honor of dreams of warmer days to come, we decided to spend some time today drafting a Top Ten list that is to be tentatively titled, "Top Ten Reasons We Want to Break up with Winter and Marry Summer…"
1. Restaurants
It's not that we are getting tired of going to the same restaurants, because we sure do appreciate local restaurants that stay open in the winter months, but that doesn't mean we aren't looking forward to the return of a few of our favorite spots. Malia's Café, Fish Tales, Mickey Fins, The Hobbit, Shenanigans…the list of returning All-Stars goes on and on, not to mention enjoying outdoor seating at year-round favorites like Seacrets and Sunset Grille. Plus, an orange crush at Harborside tastes oh so sweet when it's warm out.
2. Beach
This is an obvious one. Of course we are ready for summer beach days! At ShoreBread, we spend a fair amount of time on the beach in the winter, going on long walks or snapping photos of the surf, and while the scene is always breathtaking, nothing beats digging your toes into warm sand. Whether you prefer the beaches of Ocean City, Rehoboth, Dewey, Fenwick Island, Bethany or Assateague, there is plenty of sand and sunshine to go around come summertime.
3.Hiking
Hiking is a year-round activity, and sometimes we prefer a brisk winter hike in Pocomoke or Salisbury, but a warm spring or mild summer day also packs some serious punch. Not having to worry about bundling up or slipping on some ice definitely has its benefits when it comes to hiking. One of our favorite spring/summer hiking destinations is Assateague Island. With over 37 miles of beach to wander and ample opportunities to spot wildlife, it's no wonder we're ready for sunny days to return.
4. Ice cream
Ice cream is a guilty pleasure no matter the weather forecast, but enjoying an ice cream cone or a super thick milkshake on a hot summer day is pretty hard to top. Some of our favorite places to cool off on a hot day are Dumser's, Chesapeake Bay Farms, the Alaska Stand and Rayne's Reef.
5. Berlin Bathtub races
Number Five is a shout-out to America's Coolest Small Town. The Town of Berlin does a smashing job of celebrating warm weather with awesome events like the Peach Festival and the Fiddler's Convention, but one of our favorite town events is the Bathtub Races. Where else can you find bathtubs flying down Main Street??
6. Summer events
Summer means big events in Ocean City, including the Air Show, the Dew Tour, Fourth of July Weekend, Cruising Week, the White Marlin Open and more. And that's just Ocean City's summer events….
7. Boardwalk
Oh the boardwalk. Whether you're partial to the boardwalk in Ocean City or Rehoboth, there's plenty to enjoy about summertime on the boards. Biking, walking, eating, playing games, shopping, or our personal favorite, people watching, no matter your preference the boardwalk has something to offer for everyone during the summer months.
8. Movies on the Beach
It seems like all we do all winter long is watch movies or go to the movies, but come summer, we get to take movie watching up a notch with free movies on the beach. In Ocean City, free movies are available all summer long at three locations; 27th Street, Princess Royale and the Carousel Hotel. Further north, free movies and family bonfires can also be found in Dewey.
9. SUP
Stand Up Paddleboard is a relatively new phenomenon in our local area, but the outdoor sport has taken our resort towns by storm over the past few years, with local businesses opening in kind. Whether you choose to SUP in the ocean or the bay, it's a great way to exercise, spend time outdoors, or have fun with family and friends. While some hard core enthusiasts get out there no matter the temperature, we're awaiting warmer weather before we start paddling again.
10. Waterparks
Some might debate this one, but we are of the mindset that waterpark days trump snow days. Sure it's fun to build a snowman or battle it out in an epic neighborhood snowball fight, but what's monumentally more fun is racing down the water slides at Jolly Rogers.
So here's to the summer of 2014 – may Mother Nature hurry up and bring those warm temps along sooner rather than later.