Tumbleweed & Eddie's: Dishing out All-Natural Dog Treats on the Eastern Shore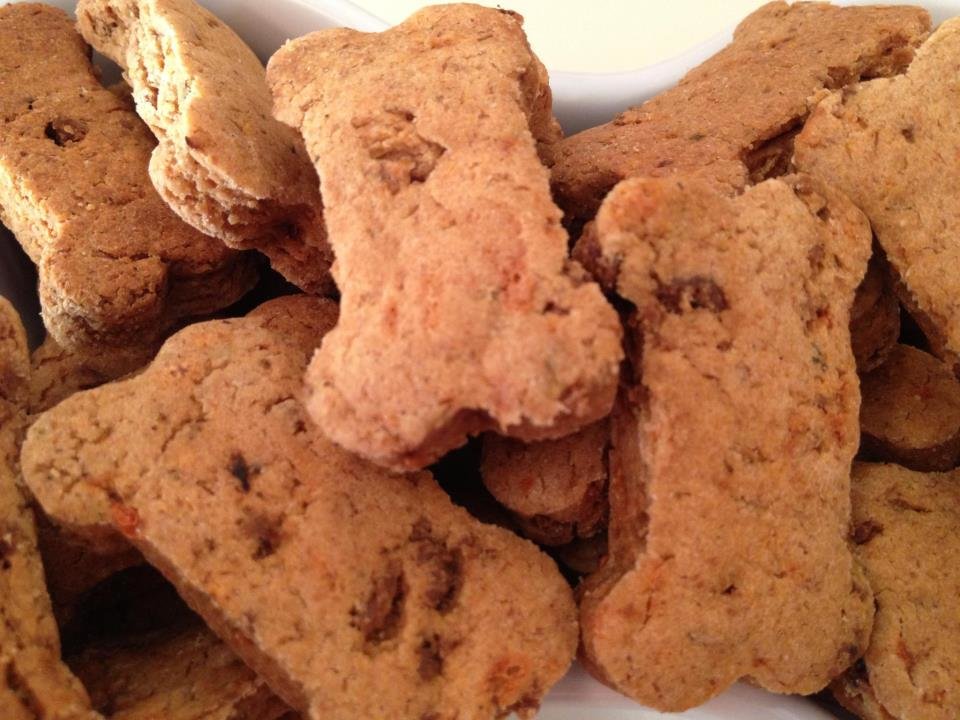 In a world where reading food labels can be as difficult as reading a foreign language, it is refreshing to find products with a moderate number of ingredients, and better yet, ingredients that we've actually heard of. Biotechtizione-what? The same goes for our beloved pets, whose food and treats are recalled at a frightening rate. Even when you think you've got a safe, "American-made" product for your fur-babes you soon find that the ingredients are sourced from oversees. Which is why we were thrilled to find Tumbleweed & Eddie's a few months ago on a trip to Baked Dessert Café for our own sweet tooth fix. After a slobbery approval from the ShoreBread dogs regarding the all-natural treats, we tracked down owners Lisa and Jonathan Iszard, learning about the inspiration behind their foray into the dog treat business as well as the importance of wholesome, natural foods for your dog.
Four year ago, Lisa and Jonathan were faced with the harsh realities of questionable dog food ingredients when their beloved chow-husky mix started having seizures. While looking for ways to improve Toki's quality of life, they discovered that one of the things that can trigger a seizure in dogs is salt. "We found that on his treats and his dog food bags, the third or fourth ingredient was sodium," said Lisa. "Most companies use it as some sort of preservative, but it's just not necessary." In an effort to eliminate sodium from their own dog's diet, Lisa and Jonathan took matters into their own hands, literally, and began making their own dog treats. "It just kind of snowballed from there," said Lisa, explaining that as friends and family began asking for their treats, one thing lead to another, resulting in the eventual launch of Tumbleweed & Eddies.
Originally from New Jersey, Lisa and Jonathan relocated to Fenwick Island, DE last year, bringing their business with them. "We've been very well-received here," said Lisa, "everyone just loves it." Currently, it's just Lisa and Jonathan at the helm, making every batch of treats that gets bagged and sold. Working out of commercial kitchens, Lisa and Jonathan are constantly whipping up new recipes and concoctions, playing heavily off of the beach theme and local ingredients that are available to them now that they live on Delmarva. Fish & Chips, Boardwalk Pizza, Sea Biscuit and Beach Burger are just a few of the beach-themed treats that have received rave reviews from area residents. Of course the Crab Cake Biscuit is a must-have on the Eastern Shore. "It's such a big seller here," said Lisa. Flavors rotate with the seasons, with Fall, Holiday and Summer flavors. Right now for example, the Iszard's are featuring Gobble Gobble Pumpkin Pie biscuits for a limited time. Composed of oat flour, pumpkin and cinnamon, it doesn't get much simpler (or more delicious according to our four-legged taste tester) than pumpkin pie.
Simple is the name of the game for Lisa and Jonathan, who use local ingredients as often as possible while eliminating salt, sugar, preservatives, food-dyes, wheat, filler, hormones and antibiotics. "We don't put anything that would be bad for our own dog in there," said Jonathon. "We try to put something beneficial in all our treats," added Lisa. A quick visit to their website reveals a list of ingredients used in their treats, as well as the health benefits. Beyond salt, hormones and preservatives, Lisa and Jonathan also steer clear of cutesy, over-decorated treats. "We don't really get into the decorated treats," said Lisa, explaining that for them, the focus is on quality ingredients and healthful flavors rather than aesthetics. While many of the store-brands look vibrant and soft, in reality it is the result of preservatives and food processing.
In addition to biscuits, the Tumbleweed & Eddie's treat line includes Bow-Wonies, sweet potato chips and beef or chicken jerky. For jerky, its antibiotic-free beef and hormone free chicken…that's it. Nothing else but chicken or beef is included in the preparation. "We get a lot of dogs hooked on our jerky. We have a lot of dogs that don't want to eat anything else," said Lisa, noting the number of customers who have reported that their dogs will only eat Tumbleweed & Eddie's brand jerky now.
Beyond treats, Tumbleweed & Eddie's also offers a dog skin-care line, consisting of a shampoo bar and healing salve. The herbal healing salve is plant-based and safe to ingest. It's perfect for just about any skin issue, including cracked pads, dry noses, bug bites, lesions and hot spots. The shampoo bar is a mixture of essential oils and rubbed sage, working to deter biting and stinging insects while acting as a coat conditioner.
Currently, Tumbleweed & Eddie's products can be found at a number of shops across Delmarva, from McCabe's Gourmet Market in Bethany to Dogtopia of Wilmington. During farmer's market months, you can also find Lisa and Jonathan selling their treats at area farmer's markets, where they incidentally do a lot of their shopping for their treat ingredients. Or visit their website and place your own order. The latest venture for the Iszards has been partnering with local, dog-friendly businesses to create brand-specific treats. For example, Rosenfeld's Deli in Ocean City has their own line of treats for sale – the chopped-liver Barkstein. Or McCabe's, which boasts their own chicken salad line of treats.
For more on Tumbleweed & Eddie's, visit them at: www.tumbleweedandeddies.com.