Upcoming Shows & Delmarva Concerts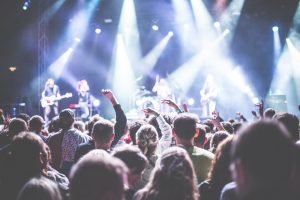 It's time to dance and sing along like never before! Whether you like to boogie-woogie, tap your feet to the beat, or sing along softly in the far-away corner… everyone on can appreciate good Delmarva concerts and entertaining live music performances!
Tons of well-known artists and unique bands are coming to the Eastern Shore throughout the upcoming months that you won't want to miss. We've put together some of our favorite upcoming shows!
The Bottle & Cork in Dewey Beach, Delaware will host The Struts, a Rock/Alternative/Indie band from UK! On Sept. 6, this UK-bred band full of "reckless swagger" and "hugely catchy hooks" will rock the stage.
Calling all bikers! During Ocean City's Bike Fest, rock band Pop Evil will perform at the Inlet Lodge on Sept. 14. They play music "by the people, for the people." Billboard even named them the No. 4 Mainstream Rock Artist in 2014.
Unfortunately, Bruce Springsteen himself will not be blessing the Eastern Shore with his presence… but head to The Starboard in Dewey Beach, Delaware on Sept. 14 to see the next best thing! Enjoy a high-energy musical experience that is a note-perfect and visually accurate recreation of a Bruce Springsteen & The E St. Band show.
Ocean City's Sunfest weekend will be filled with live entertainment! At 8pm on Sept. 21, country band The Cadillac Three will perform! Their newest album, Legacy, has taken off on iTunes, Spotify, Apple Music, Amazon Music, and other platforms!
Have you heard Daughtry's newest album, Cage to Rattle? Well, we recommend you check it out now, because guess who's coming to town for Sunfest! That's right, Daughtry will perform at Ocean City's Sunfest event in the OC Inlet on September 22.
To get in the Christian-spirit, catch MercyMe on tour at the Wicomico Youth & Civic Center in Salisbury, Maryland on Oct. 19.
On Dec. 8, join us all in welcoming Newsboys to the Wicomico Youth & Civic Center in Salisbury, Maryland! Since starting in Australia in 1985, Newsboys has taken over the world of Christian Pop/Rock music. With 33 No. 1 hit singles and multiple Grammy and American Music Award (AMA) nominations, the band has not only thrived in the music industry but in the film industry as well, appearing in films such as "God's Not Dead."
Our list could go on and on… The next few months are filled with musical performances and incredible talent at locations throughout the area. Places like Bottle & Cork in Dewey Beach, the Wicomico Youth & Civic Center, The Starboard, and even Harrington Raceway & Casino will host both big-name artists and performers you may not have heard of just yet.
Be sure to get your fix of live music events on Delmarva!
The post Upcoming Shows & Delmarva Concerts appeared first on ShoreBread Eastern Shore Lifestyle Magazine.