Wallops Island Ready for Big Antares Test Launch Wednesday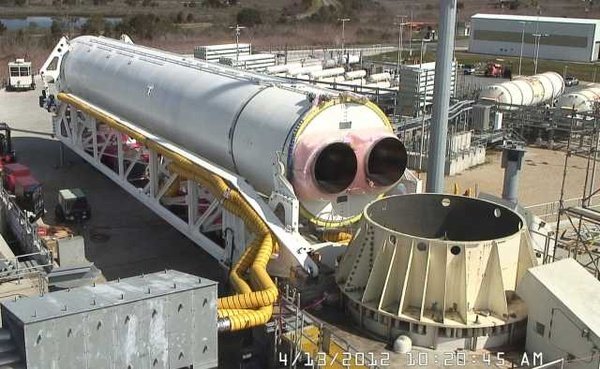 On one of Virginia's small barrier islands, a NASA facility that operates in relative obscurity outside scientific circles, is preparing to be thrust into the spotlight on Wednesday April 17th when Orbital Sciences Corp. plans to conduct the first test launch of its Antares rocket under a NASA program in which private companies deliver supplies to the International Space Station. If all goes as planned, the unmanned rocket's practice payload will be vaulted into orbit from Wallops Island before burning up in the atmosphere on its return to Earth several months later.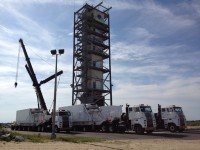 The goal of the launch isn't to connect with the space station, but to make sure the rocket works and that a simulated version of a cargo ship that will dock with space station on future launches, separates into orbit. Orbital officials say that should occur about 10 minutes after liftoff.
The Wallops Flight Facility on Virginia's rural Eastern Shore is small in comparison to major NASA centers like those in Florida, California and Texas. However, more than 16,000 rockets have been launched from Wallops Island since 1945, but none has drawn the attention of Antares. Most of the launches are suborbital and focus on educational and research programs.
"The real transformation here at Wallops is we've always been kind of a research facility," said William Wrobel, the facility's director.
"So this transition is really kind of into an operational phase, where we're going to be doing kind of regular flights out of here to the space station."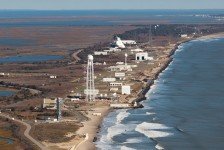 A successful launch would pave the way for Dulles-based Orbital to demonstrate that it can connect its unmanned Cygnus cargo ship with the space station this summer. If it proves successful, Orbital would launch the first of eight resupply missions from the island in the fall under a $1.9 billion NASA contract.
Orbital has been in the commercial space business for more than 30 years, producing small satellites and rockets for NASA and the military. Antares marks the company's first venture in medium-size rockets, which can carry twice as much of a payload as other rockets it produces.
The space station delivery contract was awarded in 2008, and the company had originally hoped to launch in 2011, when NASA retired it shuttle program. In a partnership with Orbital and NASA, Virginia Commercial SpaceflightAuthority built a $120 million liquid fuel launch pad at Wallops specifically for this type of mission. But there were numerous delays, and the state agency didn't turn over the launch pad to Orbital until October.
NASA will broadcast the launch live on NASA TV beginning at 4 p.m. EDT (2000 GMT) on Wednesday. You can watch the Antares rocket launch webcast on SPACE.com, courtesy of NASA. Visibility maps released by the Wallops facility and Orbital officials suggest that the rocket could be seen from as far north as Portland, Maine, and as far south as Charleston, S.C., weather permitting.
[Photos: Private Antares rocket poised for launch]