Watermelon Salad | Farm Foodie Fitness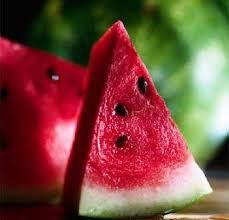 This one is a no-brainer for the summer! Sweet and salty! Super easy to make, and August is right around the corner which means an abundance of watermelon. If any of you grow mint you know there's always an abundance of that herb growing wildly throughout your garden. This recipe is great for lunch, snack, dinner, or even dessert! Here's to a taste of summer! Hope you enjoy! If you like this recipe, I have a summer recipe cookbook, loaded with easy garden-to-table recipes you can snag from my website -check it out in the shop section!
Makes 3-4 Servings
1 small watermelon
1 bunch mint
½ cup feta cheese
1 tablespoon lemon juice
Cut watermelon into small chunks or using a melon ball, scoop balls and place into a bowl. Wash and tear mint leaves. Break up feta cheese into small chunks. Add lemon juice. Mix together and serve chilled.
Check out all of Kelly's summer recipes in her new cookbook "Homegrown." Grab a signed copy on Farm Foodie Fitness