Weekend Happenings: From Octoberfest in Berlin to Art Shows & Fall Festivals in Pocomoke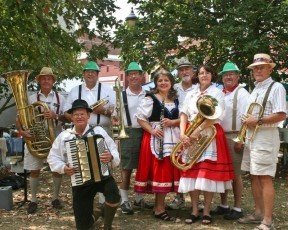 Part of what we love about living on the Eastern Shore is the small town events. While we couldn't possibly compete with the arts and cultural scene of major metropolitan areas, our Shore towns do a remarkable job of generating events that not only provide entertainment to locals, but also draw visitors to the area. Pocomoke and Berlin both keep their events calendars full throughout the year, with arts strolls, festivals and more. This weekend is no exception, as Berlin presents their 3rd Annual Octoberfest on Saturday, with Pocomoke enjoying dual events – the 7th Annual Costen House Museum Art Show and the Downtown Fall Festival.
Berlin has re-branded itself in the past few months as "Maryland's Coolest Small Town" (#mdscoolestsmalltown), and with the Fiddler's Convention, a burgeoning arts scene and a local brewing company, it's an apt description of the historic town. This weekend, Berlin locals and visitors will revel in the third year of the Berlin Octoberfest, an event that promises a day of German-inspired shenanigans. The original Oktoberfest is the world's largest fair, held annually in Munich, Bavaria and Germany. The Festival typically spans 16 days, with more than 6 million people traveling from around the world to attend the event each year. While our local Berlin Octoberfest might not be bringing 6 million festival-goers, some of the same traditions will be featured, particularly the German-style beers. Beer is a notable part of the original Oktoberfest, so our local event will include a beer garden with German-inspired beers provided by Burley Oak Brewery. And where there's German beer there's German food of course! Pretzels, strudels, bratwurst, sauerkraut and other ethnic German foods are the perfect complement to an overflowing stein. For entertainment, look no further than the live polka music of the Continentals, from Washington D.C. Admission is free and the event will be held on Main Street in Historic Downtown Berlin from 12 until 6pm.
Pocomoke also has a fun-filled Saturday in-store, with an art show and fall festival. From 10am to 4pm at the Delmarva Discovery Center, enjoy the works of talented local and regional artists. This is the 7th year for the Costen House Museum Art show, a free event designed to celebrate local artists. This year's show includes a demonstration by Chincoteague carver Reggie Birch, who is well known throughout the area for creating old-looking decoys and restoring carvings from the past. Robin Spalding, winner of this year's fine art competition at the Pocomoketoberfest juried art show, will also be featured. Also included in the event is a bake sale, a display of children's artwork, and a raffle for a painting of a historic Pocomoke building by artist Jenny Somers. While the event is held at the Delmarva Discovery Center, visitors will be able to tour the Costen House during the hours of the art show.
After immersing yourself in the local arts scene, walk over to the Downtown Fall Festival, happening from 11am to 3pm. Sidewalk painting, pony rides, karate demonstrations, face painting, hay rides, pumpkin painting and a dog parade are just a few highlights of this year's festival. Meet the police departments new K-9, enter the costume contest, or climb aboard a Pocomoke Fire Truck. This family-friendly event is free, so bring the whole family for an activity-filled day.
Whether you're celebrating your German heritage in Berlin, admiring local artwork at the Delmarva Discovery Center, or taking the kids to the Downtown Fall Festival in Pocomoke, there are plenty of reasons to get out of the house this weekend and enjoy the fall weather. See you there!