Weekend Happenings: Pork in the Park, Mayday Playday, Crab Soup Cook-Offs and More!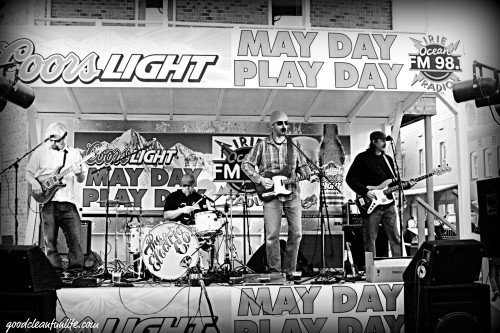 Spring is in full swing here on the Eastern Shore. Last weekend we enjoyed beautiful weather as Spingfest 2014 officially kicked-off the season in Ocean City. Across the Eastern Shore, locals and visitors dove head first into springtime events from the Beer Fest in Cambridge to the Blues & Jazz Fest in Berlin. This weekend is shaping up to be equally as exciting, with musical festivals, culinary showdowns, races and more. Winter is over friends, time to get outdoors and enjoy our beautiful Eastern Shore.
Iron Furnace Fifty
May 10 @ Furnace Town, Snow Hill, MD
The Furnace Town Living Heritage Museum and the Rotary Club of Snow Hill present the 3rd Iron Furnace Fifty this Saturday, May 10. The annual fifty mile fun ride (with a 50K and 100K alternative) begins and ends at Furnace Town, taking riders through the beautiful Eastern Shore countryside. The flat Eastern Shore terrain is well-known to cyclists, providing a fast, flat and fun ride. The annual Iron Furnace Fifty is the perfect way to rwelcome the bike season. For more information, visit www.ironfurnacefifty.org.
Ocean98 Mayday Playday Music Festival & 5K
May 10 in Berlin, MD; 11:30am-9pm
Mayday Playday celebrates its fourth year in 2014. The festival has grown leaps and bounds since its inception, with the event moving to an all day Saturday event this year. The Berlin throw down (sponsored by Ocean 98) will include 14 bands, 5k run, dunking booth, corn hole tournament, food, beer, face painting and more. We look forward to this event each year, and with a full-day celebration lined up this year, we have no doubt that we will be enjoying another fantastic event in America's Coolest Small Town.
Ocean City Crab Soup Cook Off
May 10 @ Somerset Plaza in Ocean City, MD; noon-3pm
The Ocean City Downtown Association kicks off the summer season with their 8th annual crab soup cook off. As enthusiasts of all things crab, we never miss this event as the resort area's finest crab soup purveyors compete for the title. Held at Somerset Plaza in downtown Ocean City, you'll have the chance to taste and judge while enjoying music, clowns, face painters and magicians, along with local community group exhibits.
Roar for a Cure Kids Fest
May 10th @ Hoopers in West Ocean City, MD; 11am-2pm
Bring the entire family to Hooper's Crab House in West Ocean City this Saturday for the Roar for a Cure Kids Fest. All proceeds will benefit the Leukemia & Lymphoma Society while supporting Team Colby and Ricky Kerrigan, the LLS Man of the Year. Join the fun under the big tent for games, moon bounces, face painting, raffles, vendors, food and more.
Pork in the Park
May 9-May 11 @ Winterplace Park in Salisbury, MD
Celebrating 11 years, the annual Pork in the Park event seems to get bigger and better with each passing year. We find ourselves at Pork in the Park each year to enjoy the live music and entertainment, rides and games, unique craft vendors, and of course, the delicious food. The year's festival includes national acts Charlie Worsham and Jimmie Van Zant, the Eastern Shore Wing War, cornhole tournament, cooking demos, BBQ contests and more.