Workout Series Episode 10: POUND Workout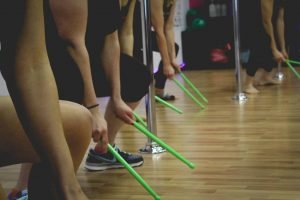 Have you ever dreamed of being a drummer? Are you a fitness junkie looking for a new way to get fit? The ShoreBread team attended the POUND Workout Class at Pure Power Studio in West Ocean City,  MD and got to rock out while working out! If you are unaware of what POUND class is, let us fill you in on this fun and funky class!
The POUND Workout class is mainly cardio focused all while working major muscle groups such as quads, glutes, and abs. You are provided two drum sticks that you use throughout the workout. You move to the beat of the music and your heart will speed up within seconds of the class beginning. The great thing about this class is you are having fun while getting fit. It's also a great way to relieve stress!
This class is available to all ages from 18 to 80. The class usually has 6-8 attendees who rock to their own beat! Because drumming is so fun, it's hard to remember you're actually working out! There's also a bit of floor work to strengthen your core. The instructor performed the moves with us which made it that much more motivating. The energy you get from your peers definitely makes you want to go the extra mile.
We highly recommend this class if you're a music lover and have always dreamed of being a drummer in a band. You won't get booked for any concerts but you'll have your health which is super important! Just remember: the only thing stopping you from achieving your goals is you!
The post Workout Series Episode 10: POUND Workout appeared first on ShoreBread.