Workout Series Episode 8: Aerial FlyGym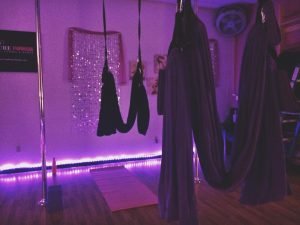 We are all about trying new things here at the ShoreBread headquarters. So, when we heard about Aerial FlyGym at Pure Power Studio in West Ocean City, we jumped right on that bandwagon! Who wouldn't want to fly through the air with no hands or feet touching the ground? Color us there!
If you are unaware of what Aerial FlyGym is, it's a type of fitness class that uses FlyGym apparatuses which are made of a comfortable, cotton, stretchy fabric that can repel you off of the ground. It might sound terrifying but it was one of the greatest experiences ever! This total body workout incorporates Aerial Yoga, Barre, and Pilates, training major muscle groups using your body weight and FlyGym.
Aerial FlyGym gives you a new opportunity to get fit testing and improving your balance, core strength, endurance, and flexibility. The pace of class is pretty relaxed and the different moves and variations of exercises makes it very enjoyable. And, who wouldn't want to feel like they're flying? One of the great things about this class is the FlyGym sling can be adjusted supporting all sizes, shapes, and balances making it comfortable for anyone.
Aerial FlyGym gives you a full body workout and we learned that pretty quickly. As relaxed as it is, you will definitely get in a great workout. This workout exercises your arms, legs, core, back, and shoulders. Because you are having so much fun being lifted in the air, you don't even realize you are in a fitness class. Okay, maybe you do, but it gives fitness a new meaning. And, our favorite part? Lying in the sling like a caterpillar in a cocoon relaxing after a hardcore workout.
Aerial FlyGym in a way represents yourself as an individual letting go of all stress and troubles that you may approach in the new year. So being able to let go and fly will allow you to overcome anything, you just have to put your mind to it!
The post Workout Series Episode 8: Aerial FlyGym appeared first on ShoreBread.