World War II Bomber "Panchito" to Offer Flights to the Public during Ocean City Air Show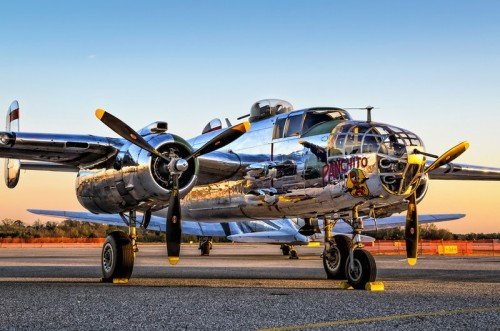 During the Ocean City Air Show this year, the public will be able to do more than just watch the planes from the beach – they will be able to fly in a World War II B25 Bomber.
The Delaware Aviation Museum Foundation is offering the chance to experience what it was like for flight crews during World War II on board "Panchito", a B25 Mitchell Bomber. The flights will be out of the Ocean City Airport and will be available June 12-15th. The cost is a $425 donation to the Delaware Aviation Museum Foundation.
"This is a rare and unique opportunity to be a part of the Air Show this year," said Bryan Lilley, president of the Ocean City Air Show. "This plane will be flying over the beach both Saturday and Sunday during the Air Show and we are excited that visitors will have a chance to experience it that week from inside the aircraft now as well. What a great  addition to the Air Show!"
To learn more about Panchito and the role the of B25s in World War II, go here: www.b25.ocairshow.com.
To reserve a seat on Panchito call (443) 458-8926 or email [email protected]. The plane can take up to five people during the 30-minute flight. Children under 18 must be accompanied by an adult.
Also this week, Air Show officials announced that two new performers will take to the skies over Ocean City during the Air Show. Gary Ward in the MX-2 and Greg Connell in the Pitts Model 12 will each perform individually and then go head to head.
To volunteer for the Ocean City Air Show, go to www.OCAirShow.com and click on the Volunteer Tab. Air Show volunteers are stationed throughout the Air Show and help with ticket collection, VIP areas, vendors and even at the airport.
Advanced pricing for tickets is about to end so hurry and take advantage of the 15 percent discount when you purchase by May 18th. That up to $50 in savings on a two-day VIP Skybox ticket. Go to www.OCAirShow.com for more details.