XO beanery & bites Livens Up Pocomoke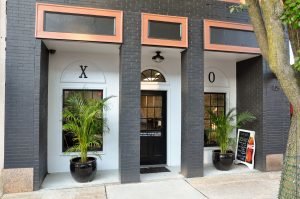 Taylor Morrison was born and raised in Pocomoke, MD and he studied Hotel and Restaurant Management at UMES.  Like a lot of people who grow up in small towns, he felt the need to move away from home to explore other options in life. His next step was to move down to South Carolina and became a chef. Things were going great for Taylor until September 2014 when he was involved in a tragic accident. This was a pivotal moment in Morrison's life.  The costs of the trial forced him to unwillingly move back home to the Eastern Shore. His situation had a heavy impact on his mental health, and, he says, "it was a very long road, but eventually I got myself straight."  
This is where the story of XO beanery & bites begins…
Lisa Taylor bought the building XO beanery & bites now calls home last fall with the intention of using the second floor as a graphic design studio. She wanted a bakery of some sort on the bottom floor.  Morrison is an extremely involved member of the Pocomoke community, and happened to speak with the downtown coordinator, Karah Lacey, about wanting to start a business one day. Lacey told Morrison of Lisa Taylor's recent purchase and her desire to incorporate a bakery into the space. Having his previous chef experience, he thought this was the perfect opportunity for him to make a name for himself here on the Eastern Shore.
"When Lisa bought the building, we did a walk through, and there was so much water damage, mold, mildew, and just all-around disgustingness; we knew there was no way around doing a top-to-bottom full renovation," Morrison told us.
Renovations began around the first week of December 2015, and their projected grand opening was Spring 2016.  However, they had more than their fair share of delays in the project.  Morrison told us that, "it seemed like every time we would start making some progress, something else would come up and set us back again.  For a while, it didn't seem like we would ever open!"
Finally, seven months after they began renovations, they opened their doors to the public in mid-July 2016. "I am truly humbled by the love and support I have received from the community since I started on this journey.  I never thought in the beginning I would have as much business as I've had since we opened," Morrison declared.
XO beanery & bites is a truly unique space. Most of the decorations inside were donated from people in the community and family members (including the paintings on the walls).  Morrison used chalkboard paint on the walls to create areas for the menus, but also painted a huge panel right by the front door where people have signed their names and well-wishes. "I originally planned to use that as a kind of bulletin for community events.  I drew the XO on there while we were still doing renovations just to test it out.  When people would stop in to see how renovations were going or just to say hi, they started signing their names.  These were friends, family, strangers, community members; I just couldn't bring myself to erase them so it kind of turned into a thing.  My nephew even has a place on the bottom left corner."
XO partnered with Open Seas, a coffee roaster in Annapolis, to come up with a customized blend crafted specifically for them.  This blend is sold by the pound and is also their main house blend.  Sometimes they rotate in French dark roast and Swedish light roast blends from Eastern Shore Coffee and Water (located in Salisbury). All bakery items are prepared from scratch each morning, and once they're gone, they're gone (so get 'em while they're hot!).  Morrison also rotates four ice cream flavors from Chesapeake Bay Farms, and does movie night specials on Saturdays.  Menu items change frequently, especially the lunch menu (the chicken salad and potato salad are to die for!). Make sure to keep tabs on his Facebook page for daily specials and limited offerings. 
Not only does Morrison serve delicious treats and amazing coffee, but he also is actively involved in the community and participates in many local events.  Every month Morrison features local artists' work on a spot on the wall, he has a weekly business card drawings for free menu items, and he hopes to soon begin hosting paint nights.  Morrison is already hosting onsite or on-location private catering events such as baby showers, bridal showers, and luncheons.
Taylor isn't stopping with just this success, he's got big plans for the future and plans to continue to grow his business and his community.  "What I really want is for the downtown shop owners to see what we've accomplished here, and translate that into something that they can also do for their business and downtown as a whole.  Did we renovate it to look like how it did back in the day?  No.  But I feel like we've opened a door, and hopefully the other shop owners see the same potential for downtown Pocomoke that I do."
We can't wait to see what Taylor has in store next!
The post XO beanery & bites Livens Up Pocomoke appeared first on ShoreBread.